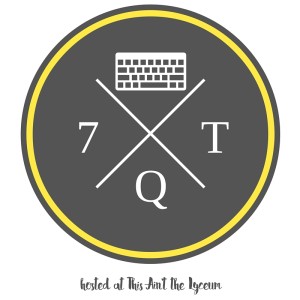 Just a few weeks ago, I posted about finishing my 2017 Goodreads Challenge in October. Well, I've set a new record now: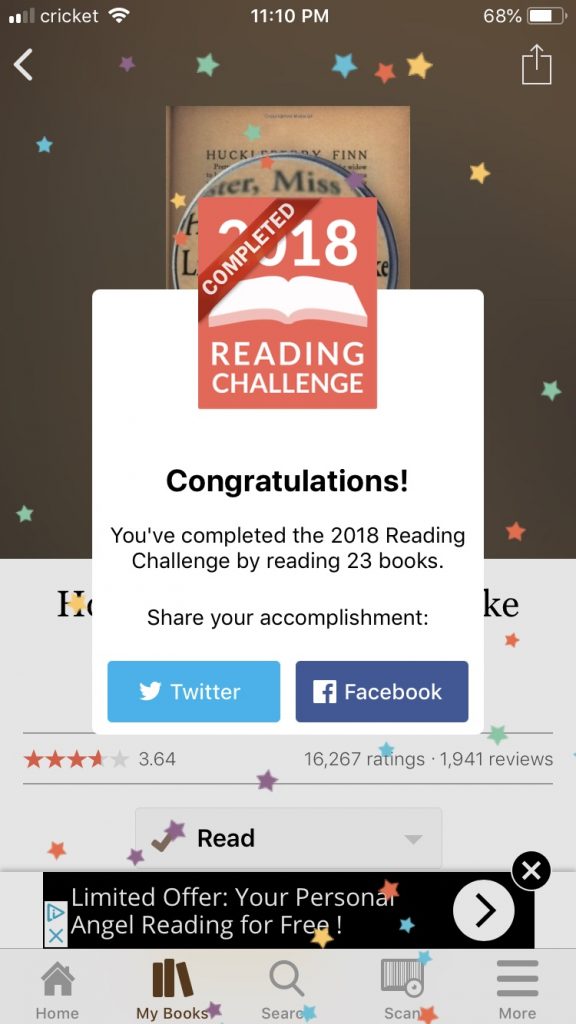 I'm already done for 2018, and the year is only half over! Although I'm tempted to set my goal higher now, I think I'll just call it a win and keep going. I'm aiming for a lifelong reading marathon, not a sprint.
I was saddened to read this NPR article about the rise in AI grading for standardized writing tests. The system can be gamed, of course, but it goes deeper than that.
On the one hand, I've been a human grader. It stinks. When I taught in Birmingham, I had to read hand-written standardized essays once. It was just me, a bunch of other English teachers, and a bunch of terrible handwriting. I'm pretty good at reading bad writing (both bad penmanship and poor skills, unfortunately), but one sample was so sloppy that I struggled mightily. I remember reaching the end of a sentence and realizing that I'd decoded all the words but had no idea what the sentence meant. I'm glad that was the closest I've come to experiencing any part of what it's like to have a learning disability. I was working much too slowly for the volume of work set before us. So I get that human-grading of essays isn't sustainable.
On the other hand, standardized writing doesn't allow for much nuance anyway. I also understand the complaints of real graders who claim that computers can't judge strong voice and elegant turns of phrase… but standardized scoring doesn't give you very much credit for those things, anyway.
Overall, I'm just not ready to trust computers with interpreting writing. They're phenomenal at transcribing speech, but those are just groups of sounds that need to be coded into letters. Dictation software still struggles with punctuation! Google might have an AI that can make me a hair appointment, but I'm not going to let it write my blog posts—or tell me how good they are.
Speaking of spooky computers, I came across this beautiful short film last year. It sent a chill down my spine.
I've been thinking a lot recently about criticism. The term "constructive criticism" has never sat well with me. After all, if there is a kind you can call "constructive," then the default must be destructive, right? And it is. Putting "destructive" right next to "criticism" is a double whammy. I was never able to unpack my unease about so-called "constructive criticism" until today.
My first resource was the Gottman Institute. It's been my best source for secular relationship advice for years. They identify criticism as one of the Four Horsemen of the relationship apocalypse. As one of the Gottman bloggers explains, criticism attacks a person's character rather than actions and puts all the blame on the other. Instead of saying "you did a bad thing," criticism says "you are a bad person." The solution is to make a complaint about the way an action or statement makes you feel, as well as expressing what you need that's different from what you're getting. Those things are all about you, not about the other person.
So I was settled about what makes criticism feel so destructive sometimes (or a lot of the time), but something was missing. I didn't see how criticism could ever be "constructive."
I was listening to podcasts while doing my hair this morning, and I think I finally found the missing link to reconciling my dislike for "constructive criticism" with its alleged goal. It's not just the feeling of destruction; it's the total lack of construction.
Erik Fisher of Beyond the To-Do List (the podcast I've followed the longest) interviewed Jon Kolko about creativity and critique. Jon reiterated the Gottman principle that criticism can only be good when it focuses on someone's work or actions instead of their character, but he also pointed out that, when giving a critique, you should offer advice for construction. That's it! Don't just tell someone what's wrong with their work; tell them how to improve it. Then your criticism is constructive.
I think I get it now. And it works with work as well as in relationships.
For Independence Day, I went to visit a family I've befriended and a bunch of their friends. It was a little strange to walk into a house full of strangers, but how else will they become friends? We played some trivia games, the garlic butter green beans I'd brought seemed to be well received, and I got to watch some neighborhood fireworks.
Louisville is the first city I've lived in where fireworks are legal. We viewers stayed way back, I was only afraid for my hair a little bit (long hair and fire do not mix), and I was only a little distracted by the sight of continuing fireworks lighting up the night as I drove home.
The garlic butter green beans recipe I used was one of the easiest recipes I've ever followed. It was more complicated than just tossing some frozen cut green beans in the microwave, but they also tasted better. I might remember this one the next time I'm cooking for other people and want an easy side dish that's as homemade and tasty as the entree.
---
For more Quick Takes, visit This Ain't the Lyceum.