I missed Advent last year. I'm still not quite sure how it happened that the religious Lindsay I used to be was completely pushed to the wayside, but there she went. The closest I came to my old ways was using Christy Nockels's "O Come, O Come, Emmanuel" for Song Prayer Friday. I used to pray all the O Antiphons with gusto before Evening Prayer on the nights leading up to Christmas. I had even considered giving something up for Advent. (Liz did that; I found it highly admirable.)
This year, I'm almost going to miss Lent. I gave up sweets, as is my custom. Graham crackers and rosé wine is about as close as I have come so far. I also took up reading a booklet of (undated) Lenten reflections from the writing of Henri Nouwen that Sarah's mom sent us last year. (This reminds me that I missed my trigger, which is changing clothes. Pause for prayer…and I'm back.) Finally, I decided to do Stations of the Cross on Fridays and follow BustedHalo's FastPrayGive Calendar.
Lenten resolutions 1 and 2 have gone well. The latter two have not. They crashed and burned in one day: this past Friday. Having successfully fasted from rushing through my day (On Wednesday, I stopped during my planning period to examine one of the student paintings in the hallwayl it was lovely) and from self-pity (I think I complained during lunch on Tuesday; I usually commiserate with the other teachers), I headed to check Friday's fasting challenge as I conquered my daily bowl of cereal. "Fast from dairy today." On cheese pizza Friday, this was an epic fail. Some of the calendar's other devotees made similar slip-ups (most commonly over morning cups of coffee), so I wasn't alone. To add insult to injury, I completely forgot about going to Stations after dinner because I had to finish my lesson plans and got caught up in dinner conversation with Brogan, D, and D's sister. I atoned by donating the cost of two gallons of milk to my FPG bowl.
Yesterday morning was somewhat redeeming, though. The prayer challenge was to pray in a new way to be closer to God. I took one of my favorite Bible verses (Psalms 51:10), one I previously had as an LJ icon during Lent, and created some word art.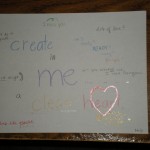 Somehow, just asking for help made me feel like I'd received it.