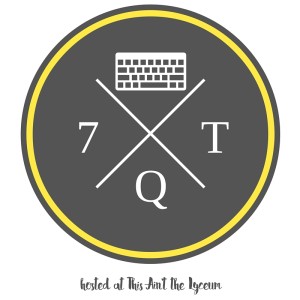 I won HQ trivia! Not only did I win, I won it twice, and the first time, I didn't even use an extra life!
If you missed the buzz late last year, HQ Trivia is a live, app-based trivia game. What makes it unique (besides being live and in an app) is that you have to get each question right to keep playing, and if you get all the questions right, you split the prize money with everyone else who got all the questions right. Thus, if the prize is $5000, and 5000 people get all the questions right, each person gets $1. But that, dear readers, is more than zero dollars, and for me, that's what makes HQ fun.
I only started playing a few weeks ago, when my beloved Jeopardy! had a category called "HQ Trivia." I took that as a sign and Alex's blessing.
I had never won until, last Monday, the usual 3 p.m., twelve-question weekday game changed to an 8 p.m., eight-question game. In that game, I finally won… and so did 90,000 other people. Yes, that's ninety thousand. For my victory, I received twelve cents.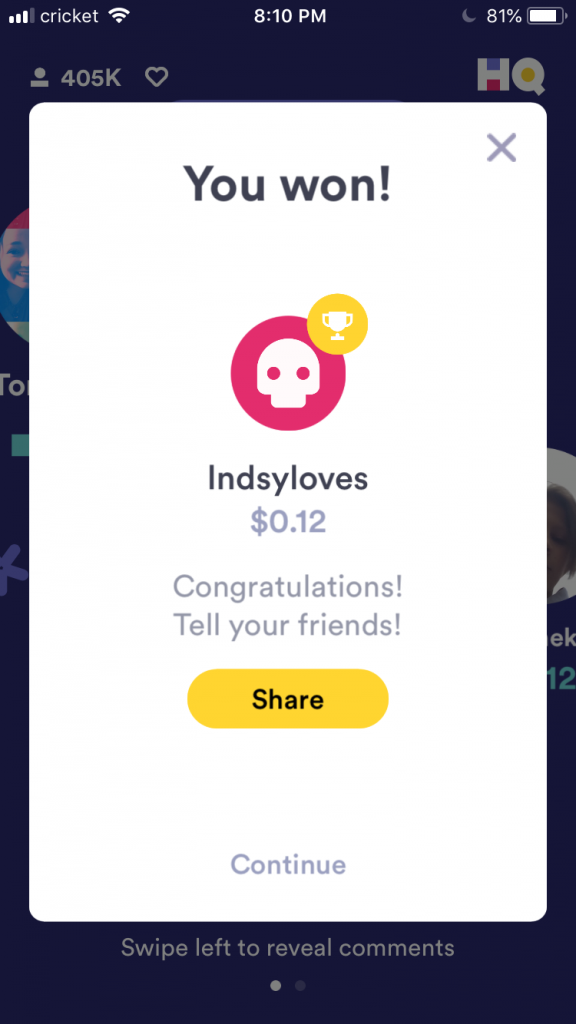 Why were there so many winners? My guess is that the show's question-writers and producers didn't perfect how to balance the easy and hard questions (they start out ridiculously easy to weed out bots), so they wound up with way more winners than usual. They fixed that problem by Tuesday.
I finally figured out the (totally legit) trick to getting a free extra life without a referral on Tuesday, and then I won the 12-question game on Wednesday night, so I got another 99 cents.
I will probably use my winnings to buy a Dollar Tree lint roller. They are great quality for the price.
On Saturday night, I went to an event hosted by my local library. They showed The Breakfast Club and followed it up with a discussion by the author of a book about 80's teen movies (Brat Pack America) and by John Hughes's son, James. It was not as enriching as I'd hoped, but I appreciated the opportuty to get out of the house, see a new area of Louisville, and watch a great movie.
After I accidentally re-watched High School Musical 3 last week (it wasn't very good either time), I needed a better movie to cleanse my palate. That did the trick.
One particular day during this past school year, the wi-fi was spotty, so I tried to load a page in Chrome while my computer wasn't detecting any Internet at all. I got the default "no connection" page and accidentally pressed the space bar instead of my usual Ctrl+W keystrokes to close the tab.
Imagine my shock when I started playing a side-scrolling video game! I'd seen my students playing that game before, but I'd had no idea how they got to it. (Middle schoolers are smarter than we think.)
I only played it for a minute before I reset my Internet connection, but it was fun to stumble across an Easter egg the old-fashioned way for once.
I use Duolingo to practice and refresh my Spanish vocabulary and grammar. It uses computer-generated sentences, though, so some of them get a little ridiculous. I appreciated this video dramatizing some of the most ludicrous sentences Duo comes up with.
I completely lost my voice for five days last November. Maybe I'll blog that story one day, but for now, I just want to recommend the app that I found to be an absolute life-saver. It's called Talk for Me, and it's designed for people who are deaf and hard of hearing. Since I could hear just fine despite being unable to make a sound, I just needed something better than scribbled notes on a piece of paper. It was just the right thing, and it was free!
On about the third day of my lost voice, I started trying to consider emergency plans. I haven't called 911 in a while, but I have done it before. If I'd suddenly needed to, how could I call for help without a voice? You can't text emergency services; I checked.
Really, my only recourse would have been to call and leave the line open, hoping the dispatcher would approximate my location and send someone to check around. Once I found Talk for Me, I could have tried to use that, but even finding the app in the first place took a little while. I would have been left to fend for myself in an actual emergency. I couldn't even yell for someone within earshot!
The only solution we really have for people who are permanently deaf or hard of hearing are those ancient alert buttons for the elderly or literally going to find a hearing person to call 911 for you. That doesn't seem right.
Multi-tasking is a myth. The best currency in the 21st century is focus. I recently found a video to show all my haters. Seriously, try it, and see if it doesn't change your mind about multi-tasking forever.
---
For more Quick Takes, visit This Ain't the Lyceum.