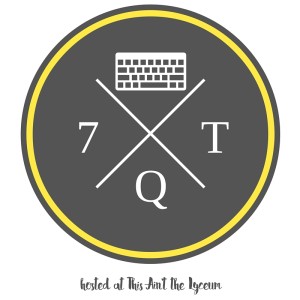 #rip beloved stereo. You played radio, CDs, and even both of my iPhones (with a Lightning adapter). You will be missed.

— Lindsay Wilcox (@lndsyloves) July 23, 2016
My stereo was good to me. It was a gift from my mom. She is a master shopper; sometimes I request things when I'm not quite sure what I'm looking for, and she always delivers. This particular stereo had a radio tuner, a CD player, an iPhone connector (play and charge), and a remote. It was perfect. I even got a 30-pin-to-Lightning adapter specifically so I could keep using it after I upgraded my phone to one with the newer connector.
I guess it started dying fairly early on. The first thing to go was the alarm. I switched to using my phone as an alarm clock, which turned out to be nice because then I hear the same sound that means "wake up" even when I'm traveling or napping. (I also hear that sound when it's time to check my laundry, but still.) The next thing was the remote. It was a pain to have to walk across the room to change the radio station, but I got over it.
Then the radio started to go last week. For some reason, memory station #2 just would not stick. I tried scanning by hand to get back to the right station (96.7, which of course takes forever to reach no matter which end of the range you start from) and resetting the memory, but I failed twice in a row. That was the last straw. I need radio.
My solution deserves its own take. One of my roommates gave me an adorable Bluetooth speaker for Christmas. I don't usually exchange Christmas gifts with friends, but it's her love language, so we work it out. I have used the speaker with my current iPhone several times. It's great for Pandora, but podcasts skip like CDs for reasons beyond my technical knowledge, so I just don't use it that way.
I also have my old iPhone 4. I dug it out of my tech storage box, charged it (plugging in a 30-pin connector was so bizarre!), and am now using it like an iPod touch. It gets wi-fi, so I can play local radio stations live from their websites. (I guess I could also pick up stations from back home. I'll have to try that next.) With my old phone paired with the Bluetooth speaker, I have a radio again!
It's not as easy to switch stations, but I only ever do that when I have time to spare anyway (i.e. not weekday mornings). It doesn't play and charge, but Bluetooth allows me to play while charging at a distance. I need to take more advantage of that. It doesn't play CDs, which encourages me to finally rip all my physical CDs so I can stream them in-house.
Finally, I updated to iOS 7.1 (the last one available for that device) for security purposes and because I couldn't stand looking at iOS 5 anymore. Can I request that we never go back to keys that don't visually switch between capitals and lowercase again? How did we live like that? #throwback
On the way back from visiting Mr. Man in Houston, I stopped for gas in Katy. I've done cross-country drives before and always done okay choosing a random gas station. (I usually pick one that is also near food so I don't have to make a separate food stop.)
The random gas station I picked was super sketchy. I'm a little bit paranoid in general, but I felt so uncomfortable there that I just got right back in my car and kept driving down the service road.
The next station (seriously, the very next one I passed) was so much better. It was bigger and cleaner, and I felt much more safe. I went inside, and when I got the register with my soda, a man ran back in from outside to switch his pump number. The cashier looked up and saw me standing there. He was visibly startled and said, "I was not expecting to look up and see such a beautiful woman!" A lovely lagniappe for my day.
Last week was NFP Awareness Week. I have been aware of NFP for a while now (at least since I started going to church; imagine that), so I don't usually see anything new in the posts and articles that emerge each year. I did notice that this year's image has a couple at their wedding: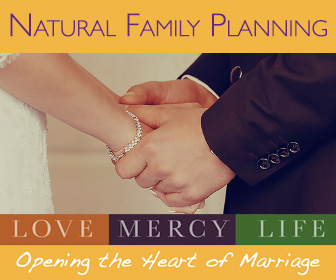 Honestly, promoting NFP by using pictures of women with babies is probably not the smartest marketing move. This is a nice change.
This year, I want to highlight a brilliant post by the lovely Britt Leigh at Proverbial Girlfriend. She is a newlywed expecting her first child. Although that is not what most of the world thinks when they picture "someone who makes this NFP thing sound like a viable alternative to standard birth control," I encourage you to read her post. She does a great job of linking it with weddings (our Not Alone Series topic for the month of July), sharing the reality and hopefulness of the NFP life, and neither sugarcoating nor sounding bitter or didactic.
I should read more blogs by writers. We are awesome.
Wrapping back around to love languages, Verily posted an article this week about how to speak your man's love language when it is Physical Touch (besides that). That is not Mr. Man's love language (we have the same one, Quality Time), but I read it anyway. I was delighted to find that the tips the (male!) writer gives are applicable to learning to speak every love language. Especially if your snuggle bunny's love language is not the same as yours. Even if your snuggle bunny's love language is the same as yours.
The same word can have multiple meanings and various connotations in a single language. "I'm fine" means very different things when you (a) have just fallen into a literal deep hole and are physically unhurt but unable to reach the surface, (b) are a woman responding to an inquiry from your main man, and (c) want a store employee to leave you alone. So it's important to approach speaking someone's love language with an open mind and a heart ready to learn. The words of affirmation you say are not necessarily the words he wants to hear.
Speaking of women and stores, I heard a profound insight some time ago: Men don't go shopping. They go hunting.
I was wrong about the ALS Ice Bucket Challenge: it actually did raise a lot of money, and it actually did make a difference. I maintain that I saw too many videos framing the challenge as "donate or dump ice water over your head," as if the bucket were a way to get out of donating, but the money came in somehow and was put to good use. I can get behind that.
---
For more Quick Takes, visit This Ain't the Lyceum.