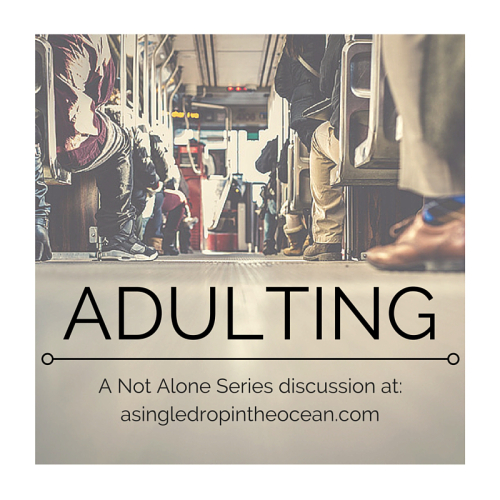 As evidenced by the beautiful featured image, the lovely Laura is hosting once again.
Adulting is hard, sometimes. So many transitions. Making friends. Starting jobs. Building community. What are some ways that have gotten you through?
Wait, I was supposed to be adulting already? Oops. I could barely manage to publish this post in a reasonable timeframe! It's here, though, and I will be on time to host this coming Tuesday. I've managed the responsibility/dependability side of adulting for a while now.
Laura was inspired to reflect on this topic because she just graduated from college this month. When I was at that stage, I had a plan, although it was a short-term, kind of crazy plan. I knew that I was in a place (in terms of finance, family commitments, and low risk-aversion) that I could take that leap.
Even when I finished ACE, I was ready to take the next big risk. The previous one had worked out so well, although it was not without its bumps and bruises. (Ask to see my car crash photos sometime.) That was how I wound up in Texas.
As I've gotten older, I've become much more risk-averse. I hear that happens. I feel a non-pregnancy-related urge to nest. I have habits and routines that keep everything going along. I want to settle into being a regular adult instead of a young adult (young is relative), but that requires being satisfied enough with my life that I can settle into it. So that's where I am now: assessing what risks I am ready to take, deciding whether my current life can go the distance, and changing as much as possible now so that (if all goes according to plan) I'm not boxed into a place I don't want to be.
Recently, I've started increasing my intentional efforts at gaining perspective so I can make those decisions. That means lots of asking questions, reflecting on the answers, and actually doing something about it.
Do I want to make a permanent home in Austin?
Am I ready to get married?
Is my career taking me where I want to be? Where do I even want to go? When? How do I get there?
Are my financial decisions making good use of my budget? Could I be earning more or spending less? Am I saving enough? Should I be giving more? Am I spending appropriately?
How am I using my time and energy? Do I need to ask for help? Who should be helping me? What can I outsource?
Am I reading enough?
When will I be debt-free? How can I reach that goal sooner?
How can I improve my health?
How can I live more joyfully?
That last one is right there in my tagline!
My best resources have come from all over the place:
the Getting Things Done productivity methodology, specifically the Areas of Focus (a.k.a. Areas of Responsibility) and Horizons of Focus
Living Forward, by Michael Hyatt and Daniel Harkavy, and the concept of having a Life Plan
prayer
assorted reading about productivity, efficiency, and life management
regular, structured reviews (currently weekly, monthly, and annually)
the Not Alone Series, especially topics that focus on self-improvement and discernment
You Need a Budget, although I can't vouch for the current/new version just yet
My questions are all over the place, and so are the venues I'm finding answers! So, ultimately, my advice is to keep searching, keep thinking, and keep answering the questions you're asking. "I don't know yet, but here's how I might figure it out" counts as an answer.
---
Next week's topic: Love Languages Revisited
Love languages apply to more than just romance; they help you learn how to make people feel appreciated and cared for in all of your relationships. What is your love language? (Take the quiz at 5lovelanguages.com.) How have you learned to speak someone else's love language? Do you find it easier to speak some languages than others; if so, which ones? How have you shown or received love in multiple languages?
View past and upcoming topics here or like our Facebook Page for regular alerts.
Link up with Laura at A Drop in the Ocean!