Well, my catching up by writing two entries in one week last week was a fail, but perhaps I can just stay on track for this week.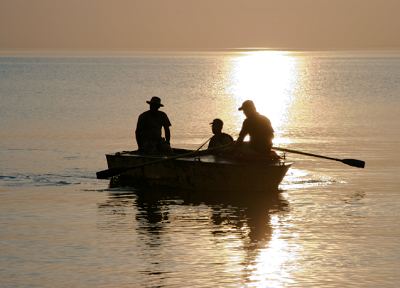 This week's story is called "Generations".
—
Waves lapped as the boat resettled. "Well," said Junior, finally. "Things like this don't happen to real people. Like the movies, that is."
"The one that got away?" said Senior.
"Yep. The one that really did get away. At least this makes a good story for you there, ey, Tripp?"
"Sure, Dad. Stories are good," said the boy. The funny stories were really the only good part. Grampa nearly being struck by a renegade seagull. Dad forgetting to bring a bottle opener.
There were other good times, too, though. Grampa singing his favorites from the old days. Dad showing his son how to tie a lure. He himself, the littlest John Phillip Davidson, learning patience and contentment waiting for a bite. The together part was good, too, but he wouldn't know that until a few more years had floated by.
(140 words)
—
This one's a bit more serious than the others, but I'm enjoying the opportunity to get a totally new writing prompt every week. Oh, there you are, writing muscles.
Check out Grandma's Goulash for more succinct stories.