Every year, over the first weekend of December, all the teachers in ACE gather in a central location for a retreat. It gives us a chance to reunite with the ACE family, relax, and renew our relationship with God. I discovered over that weekend that ACE became my life, but not in a fully positive way. I let school and work–which are now the same thing–take over every aspect of my life. My relationship with God, which had once been the strongest point of my life, started to dwindle. That scared me a lot.
On retreat, I made a commitment to get back my life. I know that, as a first-year ACE teacher, I have already committed myself to these two years of service. It's supposed to take a lot from me. It's not supposed to eat me alive, though. So, after school resumes in January, I am making a new commitment. I want to spend fifteen minutes a day doing something just for me. Reading along with the daily lectionary takes about that long. The Liturgy of the Hours takes that long. Writing in my blog or in my spiritual journal takes that long. I just need to do something that reminds me of who I am, and who God is in me.
I managed already to take a small step towards that reclamation. Elena at My Domestic Church wrote about reclaiming the remnants of Advent after being caught in the dizzying flurry of outward Christmas preparations. Thanks be to God, I did that this past week. It was my turn to lead community prayer on Tuesday night. I had a little extra time on Monday because I'd already written my final exams, and I love Advent, so I had a brilliant idea.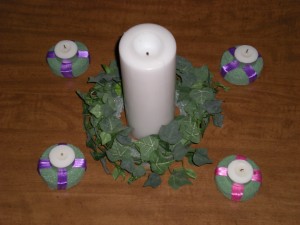 I made our Advent wreath out of construction paper during sophomore year (we weren't allowed to light candles in the dorms), so this is an upgrade. With a little help from the USCCB, I created and led a prayer service to bless the wreath and light it. I lit all four candles, since we'd be separated again by the fourth Sunday. It took a long time to put together, even with our community candle as the centerpiece, but I loved every minute. It reminded me that I find God in my community, and that, as much as I feel far from God in those endless weeks of teaching, he is still there, and so am I.