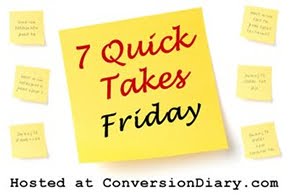 —1—
I do not make New Year's resolutions. I make resolutions whenever I feel like it. The last thing I resolved to do was start praying Night Prayer again, and I haven't been doing badly at it.
—2—
I had a lovely time ringing in 2010. Becca and I went down to Nick and Mary's house. We watched some classic Cosby Show (but then, they're all classic!), played Mario Party on Becca's new Wii, tried out Uno Spin, and toasted along with Dick Clark. When I was in my MTV phase, I enjoyed the nontraditional midnight cover song, but after Clark's stroke, I converted back. You have to admire that tenacity.
—3—
Just as I did last year, I managed to drive my mom's Equinox back home without incident; let myself in; shower; go to Mass for the Solemnity of Mary, Mother of God; come back; and eat breakfast before I ran into my mom at all. Dad was lounging in the same recliner during that entire period, but he was enjoying a day off, so I can't blame him. It was nice to feel productive and accomplished for once.
—4—
I cannot believe that the last full day of my break is tomorrow. They always go too fast, and I never manage to work or read enough. I did make up for an entire semester's worth of TV watching with a two-week Degrassi: The Next Generation marathon, though.
—5—
Continuing my teen TV-fest, I watched Angus, Thongs and Perfect Snogging on Nickelodeon tonight. I read the first few Confessions of Georgia Nicolson books, but her writing style was very kitschy and unnervingly British, so I got tired early on.
—6—
I think I might have a legitimate problem with my work. I have lost my ability to focus, especially on school/work. I wasn't always like this, and it's true even for things I enjoy (prayer, pleasure reading, sometimes even TV). The question is, where am I going to find the time to sort this out?
—7—
I am trying to blog more. It's the same mini-resolution I make every time I'm on a long break from school. Writing makes me happy, though, and it helps me empathize with the work I assign to my students. Let's see how long I can persist this go-round.