I've been blogging for a long, long time (nine and a half years). I've seen a few spikes in my traffic over the last few years. After I wrote an editorial for my campus newspaper on modesty, I posted it here and submitted it to the old Catholic Carnival, and I got some great traffic from that exposure. I discovered Switchfeed back in the day, and when the bloggers moved over to Switchfoot.com, they remembered me, linked me, and sent a flood of visitors my way. Earlier this month, my adaptation of a specialized Catholic liturgical calendar program into Gcal was ridiculously popular, perhaps my most popular post ever.
Recently, I began reading Lindsay in Progress. I can't remember how I found "the other Lindsay," as I like to think of her, but I enjoy her blog. I visited it once via Google Reader on my iPhone and was shocked and pleased to discover a beautiful mobile theme for her WordPress.com site. As of a few minutes ago, I have applied the same theme to my own blog.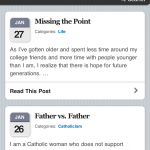 I definitely prefer the desktop browser version, but at least I know I have control over the mobile version and it looks just as classy as I want it to.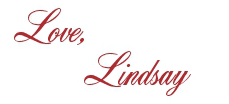 I bet you'll love these posts, too!