I'm trying out yet another book meme. Don't hate; I love memes, lists, and books. It was inevitable that I eventually start participating in Top Ten Tuesday at The Broke and the Bookish. For the record, I at least started writing this on Tuesday, even if I didn't post it until Wednesday. I'm not super broke, but I am most certainly bookish.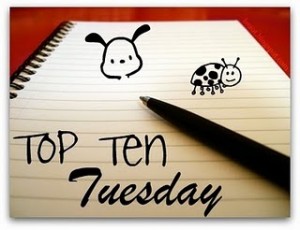 Top Ten Books I'd Give a Theme Song To
Just for a challenge and for the love of the band, I'm going to try to do this with all Switchfoot songs.
Hooray! I made it through all ten! This meme might be a keeper.