It's been three weeks since my last Quick Takes, and about a week of that is reserved for a future post, so I apologize if I'm more scattered than usual this time. First of all, I went to Nicaragua for spring break, which was fantastic and will require longer than a Quick Take to appropriately recap. I'll come link it after I've written it.
I discovered as I was doing my laundry the week after I got back that I never should have waited that long to wash so many very dirty clothes. I will have to tuck away that tidbit for future mom usage: Hard work stinks.
My parents' 30th anniversary is on Tuesday! Wow. My lack of having been alive for thirty years notwithstanding, I can't imagine what it takes to get that far. I can only hope my future marriage lasts for thirty years…or more. (Women in my family tend to live to be very old.)
At the Hallmark Store this evening, I discovered that thirty is not a popular card-sending anniversary. Twenty-five, sure. Fifty. But not thirty. Thirty gets a gemstone, pearl, so it is so much to ask for a nice, store-printed card with pearls on it?
I'll work on a better plan for thirty-five. Hopefully it will be one that doesn't involve a Friday night trip to the post office drop box.
This weekend only, the code HITUMBLR will get you a $2 credit for free mp3s at Amazon MP3. (They just started an Amazon Music Tumblr.) I highly recommend Amazon MP3. It has great deals like free credits (I've cashed in so many codes over the last year!); it offers 100 CDs in various genres for $5 each each month; and some of the individual songs are not available in iTunes, are the same price, or are cheaper. You do have to download a small piece of software to purchase albums, but not individual songs, and of course, mp3s play on computers and any portable digital music device (including iDevices). Go check it out—for free!
I didn't take any good Instagram photos this week. The Texas wildflowers are out, but I only see them when I'm driving, and trying to take photos while driving is almost asking for an awful accident. I did catch the most beautiful glimpse of Jupiter and Venus framing the crescent moon on my way out of work on Monday night, though. It was so breathtaking.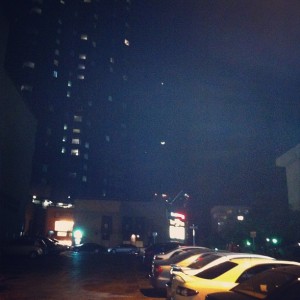 I took that mostly to capture the moment. Downtown lights ruin photos, and although phone cameras have come very far, they're not perfect.
I haven't seen the Hunger Games movie yet, but I will after Easter. I've been getting a ton of extra hits here for people looking for Catholic reviews, though. ACNM had the same result. I hope I inspired at least some of those visitors to read the book(s), and that they weren't too disappointed. Unless they have extra time and money to toss my way, they're going to have to wait. Small-time reviewers like me don't get advance screenings of big films like that. Yet.
In the meantime, isn't this shirt awesome? HP and HG fans unite!
Just when I was thinking, what could possibly top off my Quick Takes better than HP+HG?
Oh, that's right: Maryland and Quidditch! Meet the Maryland Marauders, making an awesome school and an awesome flag even more awesome.
For more Quick Takes, visit Conversion Diary!