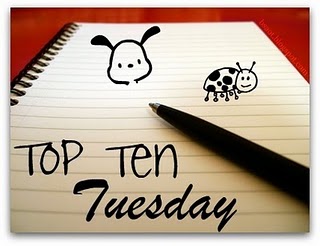 Based on the title alone, you may have thought this post was about my favorite cover songs. Alas, that will have to wait for another day. This week's Top Ten Tuesday is about my favorite book covers. The original blogger, Jana, went with her favorite covers of 2012, but I have been drowning in books already, so I think I'm just going to go with my favorite covers overall. (I don't know of a legal way to display book covers, so I'm going to link to Amazon.)
Top Ten Best Book Covers Ever

Beauty Queens, by Libba Bray: I did not like this book, but the cover is pretty fantastic. It's hard to tell unless you see it in person, but each lipstick in the bandolier is a slightly different shade.
Harry Potter and the Deathly Hallows (U.S. edition), by J.K. Rowling: You thought I would list the entire series, didn't you? Nope; just this last one. It's closest to my heart because I have a giant poster of it that I got in Borders the night the book was released. I actually got a second one the Monday after from my coworkers, but I decided to share the love and give that one to my friend Jim. I have a big blank space on my wall above the TV just waiting for it to be framed.
Feed, by M.T. Anderson: This book blew my mind back in college. The cover is a great representation of the feed, the brain implant that connects people to the Internet all the time but also brings ads. Some dystopias aren't that unbelievable.
Fearless #36: Gone, by Francine Pascal and probably a ghostwriter: I was hooked on this series in middle and high school. I finally managed to finish it after I graduated from ACE (four years after I'd purchased the book), and I was definitely disappointed. (Between that and The Hunger Games, Harry Potter just looks better and better all the time.) I do like the black-and-white effect and that this Gaia model (photo model, not robot model) is walking away.
Sinner, by Lino Rulli: I haven't read this book, but it's on my to-read shelf because I enjoyed the few snatches of Lino's "The Catholic Guy" show I heard on the Catholic Channel back when I had satellite radio. I love the simplicity: here's Lino, the book's about him, it's called Sinner, and he's the sinner. Done and done.

Dash and Lily's Book of Dares, by Rachel Cohn and David Levithan: I haven't read this book, either, but I love the cover. I like creative depictions of words. I think I could have told that it's set in New York City by this cover alone (if I didn't already know).
I think that's all. I like covers, but I guess I need more than a good cover to draw my attention and memory.