Well, this number can't be right, even if it is Jen's, because the week before last was 169. Maybe I should just give up.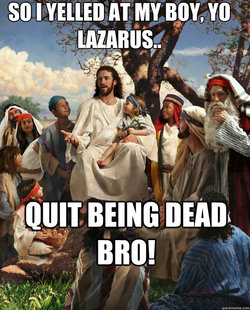 The awesome Catholic memes just don't stop. My favorite part is that it's entirely Scriptural and is also awesome. Apparently this meme is called Storytime Jesus. (Not all of the examples there are clean, but some are still hilarious.)
I have finished my last major project for the year at work. It's bittersweet. I hate the ridiculously busy times, but I'm not really a fan of the super dull times (a.k.a. summer), either. My plan for this summer is to get some good reading done. Perhaps another encyclical, and if I'm really focused, Love and Responsibility. I'm not ready for the full-length TOB yet, but that seems like a good stepping stone.
My next review for ACNM is due on Tuesday, and I've already finished the book, guys! I was so excited that I finished another Sherlock Holmes story from the e-book I've been reading on my phone. I even got a fiction book from the library. It's been so long since I've read fiction, and although I know Thumped is in the review queue and it's out now, I'm not ready enough to commit to buy it in hardcover. I'll wait until the library's copy comes in and swoop in like a hawk.
I came home on Tuesday very tired but delighted to find a surprise package waiting for me: a review copy of Dawn Eden's new book, My Peace I Give You! It doesn't even officially come out until May 14, and it was offered to me by the author herself. (Okay, so she told her to contact her publisher and I did, but the ending's the same.) I feel like such a baller! This is even more exciting than getting Sinner from Tiber River!
7QT is rapidly becoming the place where I dump photos instead of sharing them on Facebook. Good idea? Bad idea?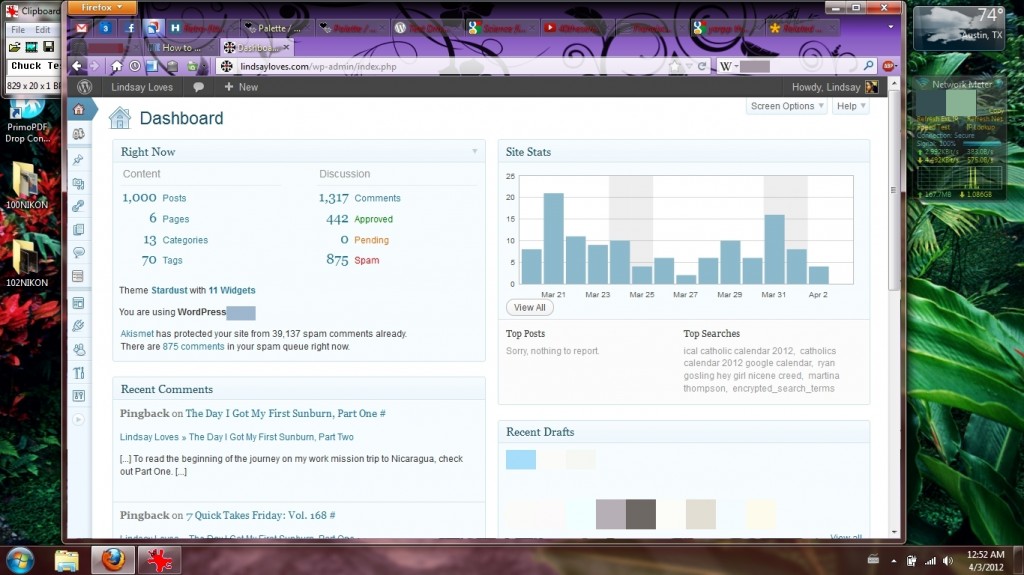 I didn't really get to celebrate my one thousandth post when it actually happened, but I needed a little reminder.
I have jury duty. I've been a registered driver and a registered voter for many years, so I suppose it had to happen eventually. Clearly I'm not going to ignore the summons, seeing as I'm telling the Internet about it. I haven't decided whether I want to serve, but I will at least offer myself for service. This is how politics works: if you don't participate, you can't complain about the way the system works. I'm participating now. I'll complain later.
For more Quick Takes, visit Conversion Diary!