While viewing a blog post on a serious topic, I was invited to watch this cover of "Somebody That I Used to Know," a song that grew on me once I started listening to the the lyrics. (I originally just liked the main singer's vocal range and use of xylophone.) I think this is one of the best covers I've ever heard, period. It's got five people playing a single guitar. This might be better than OK Go.
Although I must say that it is a strange world we live in when, because of this, I am no longer impressed by the video I saw a while ago of two people playing one guitar. The bar has been raised.
I watched the House series finale on my DVR this week. I loved the retrospective they aired before it, even if only to hear Hugh Laurie's native accent. We've had a couple of Australian exchange students at work this year, and I wonder if they'd sound like him if they tried to fake an American accent.
I thought the finale was fantastic. I'm a little embarrassed that I didn't see it coming. The only thing that would have made it perfect was if Cuddy had shown up again. I know she left because of contract negotiations, but I hate when storytellers can't recover from real-world circumstances. Perhaps it was the House version of "Once More with Feeling": the bright spot after Buffy had been struggling in its post-cancellation/new network/Buffy's not dead anymore life. If you've never seen House, it is syndicated on multiple channels. And if you have, a great way to look back is to relive eight awesome seasons of Patients of the Week.
Now let's see if How I Met Your Mother will end as gracefully next spring. (It's not official, but I don't think it can last through a ninth season, and I want the ending to be legendary.)
Speaking of House's Patients of the Week, I was intrigued earlier this season when Chase had an encounter with a novice. As a Catholic, my ears are always tuned for representations of Catholicism in the media, which are usually inaccurate. In brief, the episode presents the POTW as a woman about to take her first profession in a brown-habited religious order. (I noted that no one on House's team seems to realize that you can still "get out of it," so to speak, even after first vows. That's why they're first.) Chase, the Australian doctor who went to Catholic school (that magic bullet that gives everyone instant theological expertise!) notices that she is very pretty and is clearly attracted to her. But she's taken. By God. The episode is titled "Chase," though, so that's not the end of it.
The wrinkle is that the woman is also attracted to Chase and shows up at his apartment one night claiming to have given up on religious life. She eventually returns to her order, leaving Chase hurt and confused. I wasn't quite sure what to think. Now that I've viewed that POTW slideshow, I'm guessing the writers needed a nun this season to parallel the one from the first season and to continue to explore House's (false) science-vs-faith dichotomy. Since the woman is just the POTW, though, we don't get to see how she moves on from her fling with Chase. I think it was useful to portray that doubting one's beliefs and choices can confirm them, and that God always forgives. We don't see a lot of that on TV; we mostly get the leaving and the relief at having given up on past beliefs.
I have been so popular this week. It was my bonus week off from work, so that would usually have spelled disaster in the form of sitting around and not doing much. Instead, I had an outing every single day:
a graduation/birthday party on Sunday between Masses,
a visit to a philosophy-based apologetics series on Monday, featuring a UT professor and 7QT host Mrs. Fulwiler herself),
jury duty on Tuesday morning, during which I didn't have to actually serve,
my morality discussion group on Tuesday night, which I led for a change,
a friend's community orchestra concert on Wednesday,
To Kill a Mockingbird at the Paramount with a friend on Thursday, which was still a fantastic movie despite the loud and oddly-timed laughter of many of the other patrons (TKAM is not a funny movie),
a prayer service for the communal effects of abortion last night, which was co-organized by a friend and diocesan colleague of mine and a friend-of-a-friend I met last Saturday,
and trivia night tonight.
Next week looks so sad in comparison.
I miss Harry Potter. I know it hasn't gone anywhere, per se, and I just started tiptoeing back into Pottermore, so that's been delightful. But I miss being part of the fandom at FictionAlley and reading fanfiction and getting to know other fans online and all that jazz. I have currently just rejoined a LiveJournal community centered around Potter-related activities, and I hope that will help. And there's still a good dozen chapters of Pottermore.
I also plan to actually set up a summer-long slow marathon of all eight movies with a friend of mine. I refuse to watch either part of Deathly Hallows on its own anymore now that they're both out, though, so that one might require an actual marathon.
I have a video this week, so I'm not as much in need of a picture as usual. I will note, though, that I found a way to brighten up my Booking Through Thursday posts. I turned to Google Images to find a nice big header, and then I asked the creator for permission via email. It felt so old-school to be using an email address instead of a contact form, but it worked out very nicely, and now I can use this: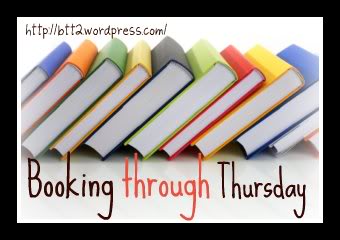 Many thanks to Jamie!
In her Quick Takes, Jen lamented that other participants have themes for theirs and she doesn't. I like not having a theme. I see 7QT as my weekly opportunity to dump seven bits of information that aren't big enough for individual posts. This is the way I used to blog in college. I look at my calendar and think "what happened this week?" And then I write about it. Done and done.
For more Quick Takes, visit Conversion Diary!