Let's start this week with a video. I was searching for the lyrics to No Doubt's new song, discovered that P.O.D. released an album this year, and decided to figure out which was the latest of their songs I remember. Turns out it's this one, so here's a nice throwback Christian hip-hop video for you.
(P.S. Watch all the way to the end and see if you can spot a certain pop diva who has made various bad life choices since those days.)
In addition to doing marriage preparation, I am now our non-priest baptism preparer. I had my first "student" on Tuesday. We run a sort of self-study course since we have so few baptisms, and he did a great job preparing. My role was mostly to acknowledge his learning and fill out the appropriate forms. I still love it when people do their homework.
I went to confession on Saturday. I think I've mentioned here before that I am on a once-a-month schedule, but this time I actually needed to go. I always feel a little awkward going in; since I'm there so often; I'm in and out pretty quickly. I'm too busy being absolved and happy to notice anyone's reaction, though.
I am leaving tomorrow morning (so early) for a retreat. I actually get to go on this one! I was offered the opportunity to give a talk, but I politely declined because this is the one retreat I get to go on all year that is not work. It's just time for me to hang out and pray and learn and just be. I am very excited.
In preparation for the retreat, I just finished baking eight dozen cookies. The recipe officially yields five dozen, but I guess I must have used a tablespoon to drop them last time instead of a teaspoon. That leaves me with six dozen to take on retreat and about a dozen and a half for myself/coworkers. And my apartment smells like chocolatey heaven.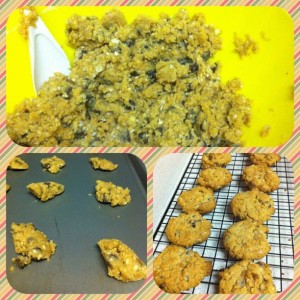 I call them monster cookies. I like to imagine that the oatmeal cookie sneaked up and ate the chocolate chip and peanut butter. No one suspects the oatmeal cookie.
On Tuesday, my door refused to lock. It was frustrating because then I had two broken locks (including the deadbolt), and I can't exactly leave my apartment unlocked. I will give my management company credit for sending someone within ten minutes of my frustrated call and then making sure the problem was actually fixed, but I will not give them credit for letting an entire business day go by between my reporting the almost-non-lockability and their actually fixing it. The regular maintenance guys showed up about an hour ago (8 p.m. on a Friday). Nope; locking just fine now, five days after I told you about the problem.
Oh! I almost forgot: I got new glasses! The prescription is basically the same, but the frames are totally new. This is the biggest change I've made in five years. I also have sunglasses now. They have made my world figuratively brighter (and literally shadier, of course), and they are Wayfarers, so I feel like I'm living "The Boys of Summer" every day. When I have a good hair day, I'll get a new picture, so it should be up in about a year.
For more Quick Takes, visit Conversion Diary!