I still intend to do a traditional annual self-review, if for no other reason than I have to figure out what to put on my Epiphany cards. At least I can cite a good reason for not having the time or money for my usual Christmas cards.
I follow a lot of blogs and other feeds (89 at the time of this post!), but I try to stay on top of those that belong to people I know outside of blogging. Jen Fulwiler counts there, although I have only met her in real life once. (She is exactly as tall as she claims to be, for the record.)
Anyway, Jen plans to participate in a particular year-in-review post link-up sponsored by Sarah of Amongst Lovely Things, the "Most" Posts of 2013. That sounds like a much less time-consuming task than my usual effort, and I love link-ups, so I'm going for it.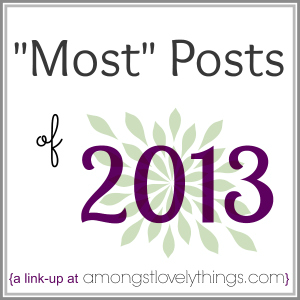 Post with the most clicks: Catholic Calendar 2013 takes the cake. My Catholic calendar posts are usually my most popular. I'm delighted that I can share my love of liturgical celebrations and Google Calendar with so many people! If you missed the 2014 update, check that out.
Second place goes to The Best Way to Pray Spontaneously As a Catholic. That is not original content, but I intentionally loaded the title, so I suppose I'll have to be an SEO believer now. Many thanks to Joe Paprocki for the foundational material!
Post with the most comments: We have a tie! Both are installments of What I Wore Sunday at Fine Linen and Purple, which supports my conclusion about the power of link-ups for generating traffic and comments. Volume 12 and Volume 26 were the winners. Volume 26 was also my third-most visited post.
Post with the best picture: I'm not always very good about adding pictures to my posts. Back when I was doing Post A Day with WordPress, I put more work into finding pictures mostly because the posts were so short.
My favorite picture was a screenshot, actually. In The Year of Many Weddings, I dipped into my love of Weddingbee. The forums don't always give the best advice on Catholic weddings, but this commenter made my day (and my year, apparently).
Post that was hardest to write: I'm declaring this one a tie, too. In 7QT Volume 214, I alluded to the day when I realized I would be quitting my job. It wasn't until later that I could talk about it openly, but I wrote that when the feelings were at their worst. It's been a really tough year, and I am glad that it is over.
The second-hardest to write was my Top Ten Tuesday on things I'm thankful for. Because it was such a tough year (much by my own actions), it was difficult and humbling to be thankful for such simple things and to know that they were all I had.
Post that was your personal favorite (not your readers' favorite—your favorite): To have a "readers' favorite post," I would need (a) many more readers, and (b) readers that commented more. I'm pleased with what I have, though, and my current blog traffic state makes this a much easier question to answer, so there.
That said, my favorite post this year was on Holy Saturday. That's one of my favorite days of the year. I make the same post every year, but that doesn't mean it's not my favorite. It requires the mood of the season to enjoy wholeheartedly, but I recommend that you read it anyway. If you stick around until next year, you'll get to see it again!
It is late and I have some things to do before I head to a friend's New Year's Eve party, so I will have to delay my regular year-end post until tomorrow. Glancing through my archives gave me a baby resolution, though: post more than once in February and March!