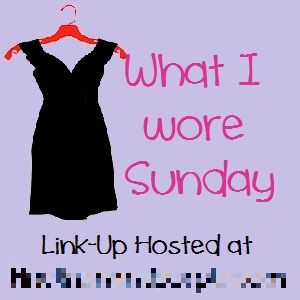 This week, we have the Extremely Early Photo and Extremely Late Post edition. I was out a little later than usual on Saturday, but I managed to pull something good together for Sunday. I even remembered to take the photo during my afternoon break from work, whereas I usually only remember it at the end of my long workday. At that point, I am distinctly more wrinkly and less enthusiastic about trying to get a good shot.
I've worn this dress many times before, for work and play, but I've never paired it with this bolero jacket before. It's a good combo. It kept me reasonably warm in the cold morning but not too hot as the afternoon warmed up.
The problem is that this is a maxi dress. It loses the effect if you can't see it full-length, but it is really difficult to take a full-length photo of yourself when you're by yourself. Enter iPhone!
That is a still frame from the very short video I shot of myself. I started recording the video, put my phone in the mini cradle I use when I'm watching a rented movie or reading an e-book, posed for a few seconds, and then stopped the video. Until I tried it on Sunday, I had never actually shot video on my iPhone or taken a still frame from it, believe it or not. That's a testament to how easy to use iPhones really are.
So, there's the full length, or at least the closest approximation a single lady can get. The maxi dress trend makes me glad to be so tall, because long dresses look good on me and I don't have to hem them (even if I could!) or carry them all day. And it's a good opportunity to carry out my challenge to make every fashion into modest fashion.