If you happen to be one of my RSS feed subscribers, this is my official notice that I am turning off my Feedburner plugin. It hasn't been updated in ages, and in this post-Google Reader era, I'm slowly moving my blog outreach back into WordPress. It just seems like the smart thing to do.
If you still prefer to follow my blog without visiting the site to check for updates manually (which is how I realized the genius of feed readers in the first place, actually), you have three options:
Stay subscribed via RSS by using the normal WordPress feed. To do so, simply view my bare RSS feed and insert that URL into your feed reader of choice. Alternatively, you should be able to enter lindsayloves.com into the feed reader's add dialogue and have it pick up my feed automatically. If you don't use a feed reader, I recommend Feedly, which has grown by leaps and bounds since over a million users fled from Google Reader in May and June.
Follow me on Bloglovin', which is the second most common Google Reader successor I've seen (after Feedly).
Subscribe via email using the box below or in my sidebar. (They're the same, just in different locations.) This will send you an email via WordPress.com every time I post. You don't need to have a WordPress.com account, and it is a double opt-in, unsubscribe anytime kind of deal. Keep in mind, though, that if I make edits to the post after the initial publishing, you won't have the most current version.
Subscribe to Blog via Email
I don't use Twitter, and this blog doesn't have a Facebook page, so those are your options right now. I'm considering Lindsay Loves for Facebook, but I don't think Twitter is for me. I can't handle another addiction just yet!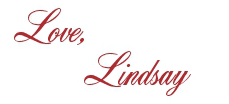 I bet you'll love these posts, too!