This has been the first Triduum and Easter Sunday that I have not worked in several years. It's very different than what I'd gotten used to. I'm much less tired, and although I deeply miss watching my little catechumens and candidates become great big grown-up Catholics, I am pleased to be able to observe this holiest of seasons with my new parish.
On Thursday, I remained in adoration of the Lord longer than ever before. I started with Mass at my parish. Their altar of repose was set up in the side chapel, so there wasn't much room and there wasn't much of a procession. I dashed back up north to meet my friends for a brief dinner, then we drove to a midtown parish for about an hour. We continued down to the diocesan cathedral, ending the night with our very own Bishop Joe as a surprise visitor. There was so much silence, so much significant time for reflection. It was glorious.
Yesterday, I went to the parish for Stations of the Cross. I wasn't fond of the particular booklets they used or the alternative song to sing between stations, but I focused myself on the heart of the service: meditating on the Passion, not just having things the way I like them. I went back for the Good Friday Liturgy, which was delightfully haunting, as always.
Then came today. It's my favorite day of the liturgical year. There is no special liturgy for this day, and it's over as soon as the Easter Vigil begins. That's after sundown, so it's a whole new day.
This year, I am so impatient for Easter to just get here already! I have my candy, my wine, my church clothes. I have a plan for tomorrow, because it just doesn't feel right to skip Easter Sunday after doing this whole three-day church bender. I'm so excited!
I do have one special Holy Saturday tradition. I usually do it earlier and post this earlier, but today is also laundry day. ("The day of preparation" was good enough for all the Marys, and it's good enough for me.) I pray the Office of Readings for Holy Saturday. I sing the Stabat Mater as the hymn, and I reflect on the psalms as beacons of hope, not despair.
Then I get to the non-biblical reading for the day. It's identified as "from an ancient homily on Holy Saturday." Honestly, I don't care who wrote it. It could be from last week, and I would still love it, and still shed tears over the hope and peace it brings. With this in mind, I could wait forever for Easter. I could wait forever for Christ.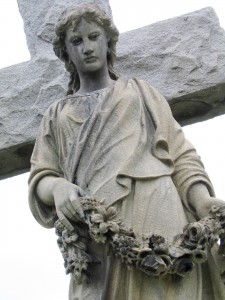 Something strange is happening. There is a great silence on earth today, a great silence and stillness. The whole earth keeps silence because the King is asleep. The earth trembled and is still because God has fallen asleep in the flesh and he has raised up all who have slept ever since the world began. God has died in the flesh and hell trembles with fear.

He has gone to search for our first parent, as for a lost sheep. Greatly desiring to visit those who live in darkness and in the shadow of death, he has gone to free from sorrow the captives Adam and Eve. The Lord approached them bearing the Cross, the weapon that had won him the victory. At the sight of him Adam, the first man he had created, struck his breast in terror and cried out to everyone: 'My Lord be with you all.' Christ answered him: 'And with your spirit.' He took him by the hand and raised him up, saying: 'Awake, O sleeper, and rise from the dead, and Christ will give you light.'

I am your God, who for your sake have become your son. Out of love for you and your descendants I now by my own authority command all who are held in bondage to come forth, all who are in darkness to be enlightened, all who are sleeping to arise. I order you, O sleeper, to awake. I did not create you to be held a prisoner in Hell. Rise from the dead, for I am the life of the dead. Rise up, work of my hands, you who were created in my image. Rise, let us leave this place, for you are in me and I in you; together we form one person and cannot be separated.

For your sake I, your God, became your son; I, the Lord, took the form of a slave; I, whose home is above the heavens, descended to the earth and beneath the earth. For your sake, for the sake of man, I became like a man without help, free among the dead. For the sake of you, who left a garden, I was betrayed to the Jews in a garden, and I was crucified in a garden.

See on my face the spittle I received in order to restore to you the life I once breathed into you. See there the marks of the blows I received in order to refashion your warped nature in my image. On my back see the marks of the scourging I endured to remove the burden of sin that weighs upon your back. See my hands, nailed firmly to a tree, for you who once wickedly stretched out your hand to a tree.

I slept on the cross and a sword pierced my side for you who slept in paradise and brought forth Eve from your side. My side has healed the pain in yours. My sleep will rouse you from your sleep in hell. The sword that pierced me has sheathed the sword that was turned against you.

Rise. Let us leave this place. The enemy led you out of the earthly paradise. I will not restore you to that paradise, but will enthrone you in heaven. I forbade you the tree that was only a symbol of life, but see, I who am life itself am now one with you. I appointed cherubim to guard you as slaves are guarded, but now I make them worship you as God. The throne formed by cherubim awaits you, its bearers swift and eager. The bridal chamber is adorned, the banquet is ready, the eternal dwelling places are prepared, the treasure houses of all good things lie open. The kingdom of heaven has been prepared for you from all eternity.
The Lord is coming! He's almost here! Get ready to rejoice!