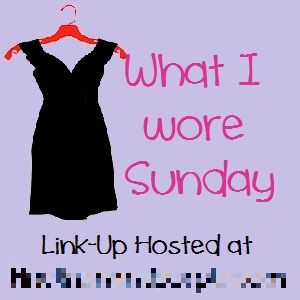 Happy Easter, alleluia!
I completed my four-day church bender this morning, and it was pretty delightful. I wrote about my Holy Thursday and Good Friday activities on Holy Saturday.
I forgot to take a picture before I changed out of my Holy Thursday attire, because it was after midnight and I was about to drop, but it was similar to this outfit I wore for Christmas Eve. I never posted that, so hooray for a new old photo!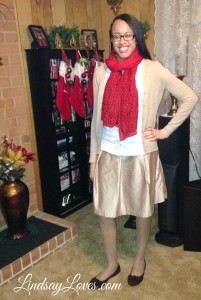 Blouse: Kohl's, or maybe Sears or another department store
Skirt: Mossimo for Target
Sweater: Old Navy (I wore a lighter neutral one last week)
Shoes: Payless
I try to dress liturgically when possible. Gold is liturgically white, so I wear this skirt for Christmas and Holy Thursday. It's been a good companion over the years, even when I accidentally ripped out the hem and safety-pinned it until my mom re-stitched it for me one year. Thanks, Mom!
On Good Friday, I usually dress in all black, as I would for a funeral. It kind of is a funeral, after all. I have a few friends who attend our local Maronite parish, and their Good Friday liturgy has an actual burial of Jesus. My go-to skirt was in the laundry from being worn on Sunday, so I had to break out a new one. How bad is it that I was kind of happy to bust out new clothes to commemorate the death of Jesus?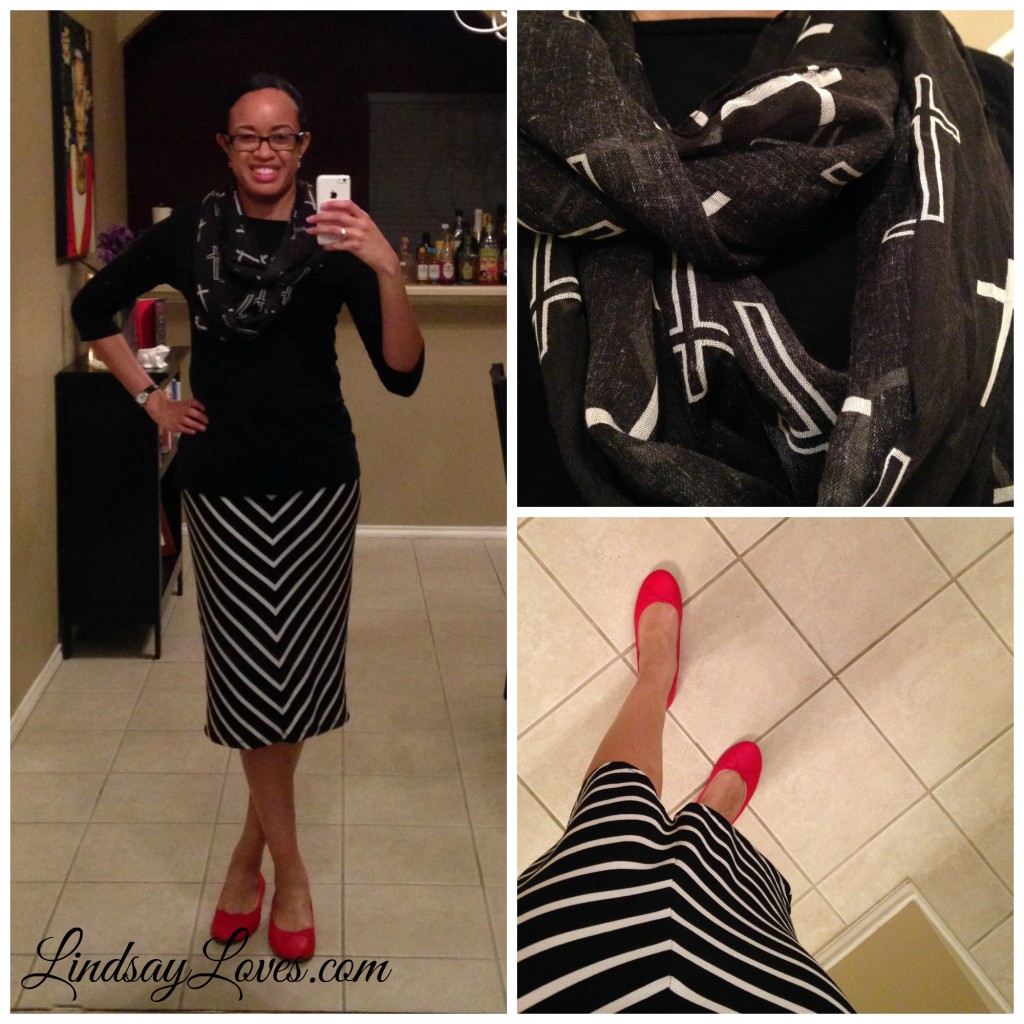 Top: Target
Skirt: Mossimo for Target (best skirt designer ever!)
Shoes: Old Navy
Scarf: gift from my little brother
I felt weird about my attempt to look cute for the Good Friday Liturgy, but why shouldn't I? I had the day off work, so I didn't need to look bedraggled from the tumult of the day. (I work in a shiny office building, but you know what I mean.) And by wearing a modest-length skirt, and a skirt in itself, I am evangelizing in the pews for modest fashion. I call that a win.
I didn't have to go to the Easter Vigil since I wasn't working it and have never been a sponsor, but I went anyway because it's such an incredible liturgy. According to the commentator, it was St. Augustine who called the Vigil "the mother of all liturgies." I knew my Augustinian heart loved the Vigil for a reason!
Dress: Kohl's
Bolero jacket: Target
Shoes: Famous Footwear
This dress is an old standby, but I think it's time for retirement. I wore it to the wedding of friends, then last Easter Vigil, then the wedding of different friends with a new necklace, then to this year's Easter Vigil. It's fallen into a rut and although I adore the color and the way it complements my complexion, I'm all out of ideas for styling it. Maybe as a formal skirt?
I wasn't fond of some parts of the Vigil—especially that they did the abridged Liturgy of the Word—but I go for Jesus. I can't tell you how the homily was because there wasn't one. On Easter! But again, I go for Jesus, and sometimes he's all that keeps me there.
This morning started out rough because I had to get up extra-early to get my hair done before Mass in the morning. My parish does not have its evening Mass on Easter Sunday (I know), so even though I didn't have to go after attending the Vigil, I went anyway. You can sacrifice during Easter, too, and since it's always a good day to grow in holiness, a little sacrifice is good for me.
Dress: Spiegel, I think; definitely a catalog
Bolero jacket: same one from Target
Shoes: same ones from Famous Footwear
Belt: Target
This dress is so old that I wore it for my confirmation. In high school. I'm approaching thirty now. I'm pretty sure it was a little big back then. I kept it out of my last clothing donation purge because I thought I could wear it with this belt, and I was right! It was tricky to keep the dress pulled and tucked properly, since it has no waistline, but I much prefer the look to the "almost ankle-length and shapeless" thing it had before. I am also pleased with this belt tie I got from Pinterest.
I went to the overflow Mass (it's a big parish and was down one Mass anyway) by myself, but I was surprised by some students from my old campus ministry job! It was nice to have company in the "pew." Our visiting priest gave a delightful homily about faith. Although there is no account of the actual rising of Jesus (like, taking off his burial cloths and rolling the stone away), we have the aftermath, all his prophecies, and the witness of the disciples. That's what we believe. We have faith to fill in where facts fail.
So I got my Easter homily after all. I met up with friends afterwards for an incredible lunch at Maggiano's and came home to relax and eat some Reese's eggs.
And a glorious Triduum was had by all. Happy Easter, alleluia!