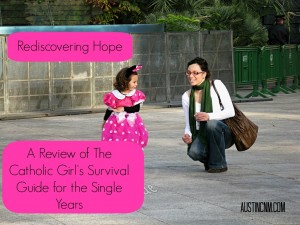 I spend about half of my lunch break at work on Facebook, but I like to read something other than statuses and blogs for the second half. When I took this book to work, I was so embarrassed that I was careful to hide the cover. I work for a secular employer, and most of my coworkers are or have been married, so I was especially eager to avoid explaining my ownership of The Catholic Girl's Survival Guide for the Single Years: The Nuts and Bolts of Staying Sane and Happy While Waiting for Mr. Right. The awkwardness of such a conversation was not worth fighting.
Having read it, though, and reflected on it for a few days, I am not so embarrassed that I couldn't write this review. I identified with Emily Stimpson's advice, enjoyed it, and learned too much not to!
Featured image by epSos.de.