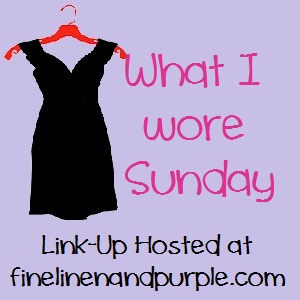 Well, today is not Sunday, but since I knew I had today off from work, I used last night for other business instead of writing this post. I did put this one on my to-do list, though, so done it shall be.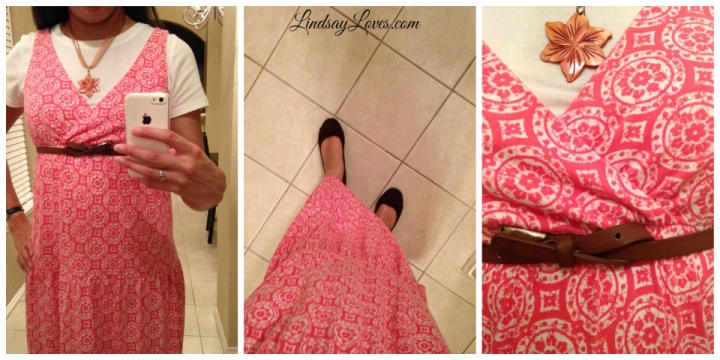 Dress: Target
Undershirt: Old Navy
Shoes: Payless
Necklace: gift
Belt: Target
I really need to work on getting clearer full-lengths! Yikes! Look at how much clearer the close-ups are. Anyone have tips on getting better full-length mirror selfies? I realize non-selfies would be the best place to start, but my roommates aren't always available when I get home after Mass and dinner. I guess I could ask my friends to take them outside the church. I'll think about that for next week.
I didn't fully plan on wearing this dress today. I had a very productive Saturday, but I miscalculated my time yesterday and had to rush through my getting-ready-for-church process. The undershirt was already ironed, the dress doesn't need ironing, and I wear that same necklace with this dress almost every time. It's falling apart a little bit, though, so I'm not sure how much longer it will last!
The belt is a new addition, to help make it feel like a new outfit. The loop-tie is my new favorite way to tie skinny belts, but I'm not sure there was a strong enough color match to the shoes. Chocolate brown might not be neutral enough.
Mass was interesting. Msgr. Pastor gave quite a nice homily. It was brief, and he made the point that the readings called us to love despite the circumstances and our comfort. If we knew that there were no mansions of gold or sparkling crowns in heaven, would we still want to go? Would we still be as glad that Jesus paid the price to let us in? Conversely, if we knew that hell was not a burning fire or neverending punishment, would we put in so much effort to avoid going there? If we wouldn't, we have our motivations all wrong.
The "interesting" part was the baccalaureate section. The youth minister read the name, high school, and intended college of every student; about thirty of them were sitting in one section wearing their graduation attire. Then we applauded. Then the monsignor gave a long, long, long speech about how happy they should be, how grateful, how ready for the future. He asked their parents to stand. We applauded. He praised them. Somehow the congregation applauded again; I politely refrained. (I don't like clapping in church anyway.) I listened carefully for any mention of God or Jesus for those fifteen minutes. Nope. It was all about human achievement. We'd been warned that the regular Mass was the baccalaureate, but weddings take less time than that did!
After Communion, instead of the usual prayer, Msgr. Bill asked all the students to leave their special section and find their parents. He talked while they moved. (Couldn't he have thought of that sooner?) He had the students stand with their parents' hands on their shoulders. Cool. Then he had the congregation "extend a hand in blessing." Not cool.
I always fold my hands and bow my head to pray along with blessings. I'm a layperson; my hands have no special power. Besides, think about what that looks like: a crowd of people, sometimes standing, with one arm outstretched, palm down. They gave up on that form of salute for the Pledge of Alleigiance after WWII for good reason. There's a number of reasons it feels awkward in church today.
So we got out of Mass fifteen minutes late, I had dinner with a few friends, and I made my weekly Target run. Good homily, bad baccalaureate. I guess that evens out.
Check out this week's style show at Fine Linen and Purple!