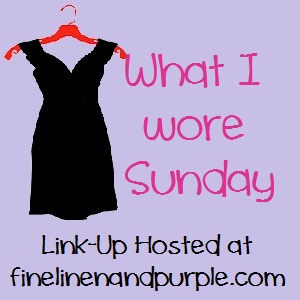 I have successfully recovered from wedding festivities and am ready to dig in for another week of work. At least I think I have (and am). Regardless, I made it to Mass on time. That's easier when you go in the evening like I do, but it can be tricky when you're finishing four loads of laundry like I was.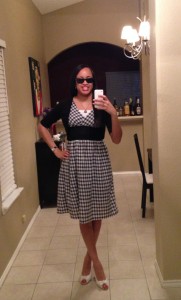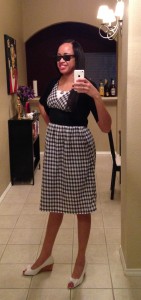 Dress: Marshall's
Bolero jacket: Target
Shoes: Payless
Sunglasses: Ray-Ban
I always wear Ray-Bans. I've worn them as my regular glasses for probably seven years, and I got these classic Wayfarers a few summers ago. I was wearing them as I walked in the house, and I loved the look so much that it seemed like the best idea to keep them on while I took my photos.
The dress is one of my favorites. It works for every season: on its own in the summer, with a light sweater for church, and with tights in the fall. I bought a similar checkered dress thinking I could replace this one (it only fits on thin days), but I keep coming back to it. Old loves die hard.
We had three surprises at Mass today. First, a priest from my Monday night Eucharistic adoration group showed up to concelebrate and give the homily. He managed to speak about the readings as well as mission work in his native Nigeria, so I will never accept "it's hard to talk about everything in one homily" as an excuse again.
The second surprise was that Msgr. Pastor (not his real name) is retiring. I knew he was getting along in years, but I hadn't realized he was close enough to actually retiring. There were so many gradual reassignments after our Vicar General became a bishop [PDF link] that I forgot reassignment season hadn't started yet. Now it has.
We only have one priest being ordained this year, but there are six or seven coming next year. (I pray for vocations every Thursday—how are you helping your diocese?) He said he's been there for nine years, which is a long time. I'm glad he'll have an opportunity to rest and to enjoy his priestly ministry without the challenge of running a parish. He's been having a tough time since his health started to decline and he lost his associate. I wish him joy and peace!
The third surprise (and definitely the biggest) was the name of our new pastor. He has been at his current parish for over twenty years, which is an incredibly long time! I was shocked to hear his name. His current parish is bigger than ours (and ours is big), also has a school, and has a large professional staff and Spanish-speaking population. It will be very interesting to see whether people stay there or follow him to our parish (which is already full to bursting). Pray for us as the transition comes at the end of June!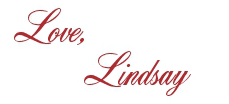 I bet you'll love these posts, too!