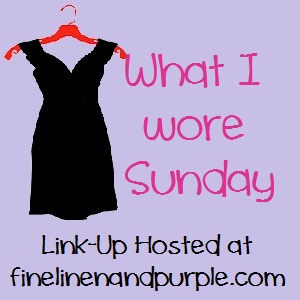 I was too flat-out exhausted to post last week. I have been grossly miscalculating the time I need to get up, get in the shower, and get ready for Mass every Sunday. There's no one to get me moving except me, so I have to race out the door and wander back in tired and full. I make it to Mass more than on time, though, and Jesus is there, so it's been a win.
Last week, I miscalculated so badly that I didn't have time to finish straightening my hair! I don't go farther than HEB with non-flat-ironed hair, so I went for the illusion side pony.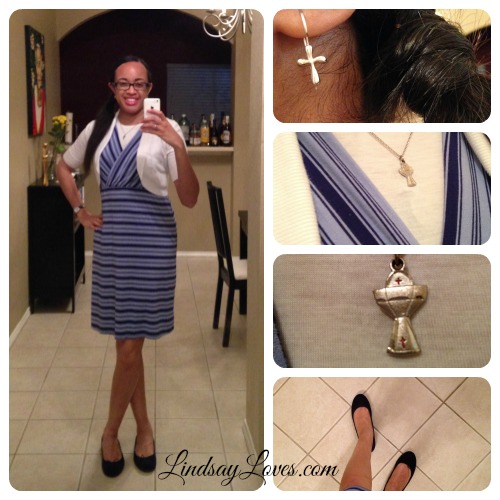 Dress: Target
Bolero jacket: Target
Shoes: Old Navy
Necklace: gift
Earrings: gift
I wear this dress all the time. I have been hooked on empire waists for years due to my pear-shaped figure, but even though the elastic waist on this dress hits just above my natural waist, I love it. The blue stripes even gave me an excuse to break out my navy blue ballet flats again. I don't think I'll be wearing them much this summer, though I love them, too.
The illusion ponytail is my go-to simple hairstyle. I lectored last Sunday, so I wanted to kick it up a notch past an ordinary braid. After I learned to do a sock bun last summer, I swore off basic ponytails for good, so I had to learn a few quick tricks. This one is simple:
Using an elastic band, create a ponytail wherever you'd like. I prefer low side ponytails, but this will work with a regular back-of-the-head ponytail, a high ponytail, or a regular low ponytail.
Separate out a quarter-inch piece of hair from the ponytail. Comb it through well and spray it generously with hairspray. The hairspray is critical if you want it to last.
Wrap the sprayed piece around the elastic until it is completely covered and you are at the end of that lock of hair.
Use a few bobby pins to hold the end of the sprayed lock of hair in place. Try to hide them by pushing them under the ponytail.
Easy-peasy and adorable. I was in such a rush that I did not spray mine. It lasted through Mass, but as soon as I made it to the narthex, it came flying free. Luckily, it's such an easy style that it was easy to fix before I took my photos.
The necklace and earrings are special gifts. I have had this Eucharist necklace since my first Communion back in the second grade. It is sterling silver, and my entire class received the same necklace as a gift from our teachers. I was unimpressed at the time. In high school, I used the chain for a completely different charm, if you can believe it! Once I returned to the Church in college, I found the charm tucked away, restored it to its necklace, and finally started wearing it. Maybe I shouldn't loathe my pack-rat tendencies as much as I do.
The earrings are part of a matching set from my mom one Easter. None of my family is very religious; they don't even go to church most of the time. When I go home, I go to church alone. Even on Christmas. They understand that I'm into Jesus, though, and they support me. My mom buys me religious gifts like these. I need to get her going to actual Catholic stores instead of Family Christian, though. A Catholic girl can only have so many vague evangelical books.
Msgr. Pastor gave an incredible final homily. (He turned up today, but he didn't celebrate the Mass.) It being Corpus Christi, he emphasized that we need to act as though we really believe in the Real Presence of Jesus in the Eucharist. We should not take it for granted, especially when Christians are dying right now in other parts of the world. The last lecture concept is true. I only wish he had started giving these killer homilies sooner! May God bless him in his retirement.
I'm basically out of red outfits now after Palm Sunday, Good Friday, and Pentecost, so I went with ordinary clothes this week. I also needed another fast outfit, although I managed to finish my hair this week.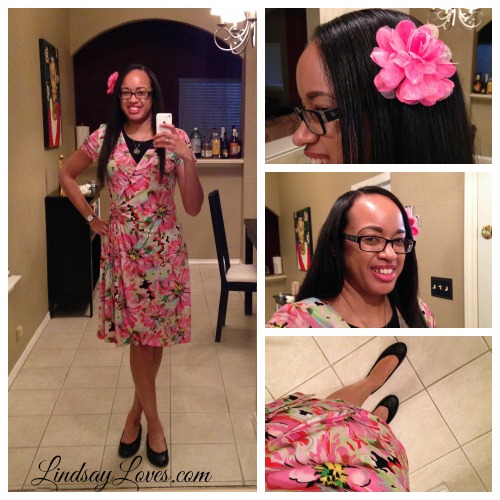 Dress: Fashion Bug
Undershirt: Target
Shoes: Old Navy
Flower: HEB (seriously!)
That is a the smile of a lady who had a good evening. Not only did I get my hair sorted out, but I managed to keep this wrap dress from slipping all over the place. I don't wear this dress very often (in fact, I don't think I've ever worn it for a What I Wore Sunday post before), and today reminded me why. The wrap is quite flattering because it lets me create a waist in what might otherwise be a bold-patterned but shapeless dress, but it is not secure. As soon as I got into my car and I suddenly saw my upper thigh revealed where my dress had failed me, I knew I was in trouble. It also happened to be a very windy day today. I don't think I've ever been quite so thankful for my big, heavy purse!
We had Fr. Fills In Sometimes for Mass instead of our retiring pastor. His homily made reference to a long list of "Catholic heroes," including Dorothy Day, about whom I have my moments. He basically outlined some of the highlights of St. Peter and St. Paul and reminded us that they make good role models. The choir did sing "By All Your Saints Still Striving," with the verse for this solemnity, so that made my heart happy.
After Mass, the cashier at our chosen restaurant complimented my holy medals (although I'm not sure he knew what they were) and my hair flower. I felt very pretty…before I shoved a lot of French fries in my face. That was probably not so pretty. The compliment contributed to my smile, though, so I'm calling that a win, too! Wins for everyone!
Check out more Sunday style and recaps at Fine Linen and Purple.