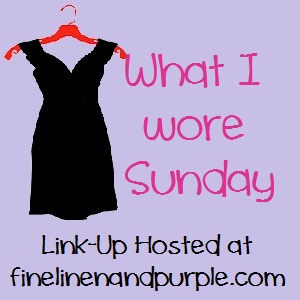 Time got away from me last week, but I'm a bit more on top of things tonight. Let's dive right in.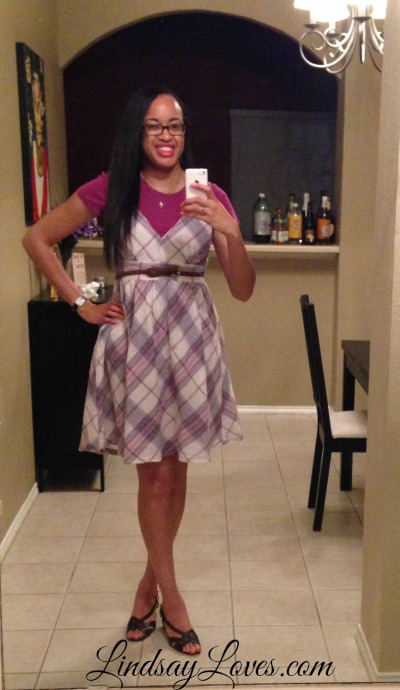 Dress: Converse
Undershirt: Old Navy
Skinny belt: Target
Shoes: DSW, I think
Necklace: gift
I've worn this dress plenty of times before. I used to only wear it with a white undershirt, but I love the way this bright, berry purple looks under it.

I didn't do my toenails this weekend. Again. How do ordinary women find the time for that? I can barely find time to trim my fingernails when they get in the way of typing (on my phone, mostly; I can handle regular keyboards). I still wore these sandals, though. I like the way they look with this dress, and I wanted to try the brown skinny belt as an accessory. I think it looks okay, but I'm not sure I'll do this exact combo again. Wearing my purple skinny belt would probably have been a better call.
I did like that this neckline allows me to wear a necklace. I own a fair number of necklaces with itty-bitty charms like this one. It made for an awkward conversation, though. We go out to eat after church every week, and when I was in line, the cashier complimented my necklace. Yay! Then she asked what it was. Uhh… This is Texas. I know a bunch of Catholics, but we're not that common. Not like back home. I said, "Um, communion?" I thought "the Eucharist" would probably confuse her. Maybe that was a missed evangelization opportunity, but maybe it was just my awkward moment for the day. (I'll pretend that I only have one awkward moment per day.)
Dress note: Due to the particular height of our pews' book racks, the residual presence of Mass response cards, and the hemline of this dress, it felt awkwardly short. But it's not short! Well, it's not long, but it's not too short for me. It is an appropriately church length, and for me with my personal clothing rules and long legs, that is longer than what many women would wear. Do you ever feel like an old faithful outfit has suddenly betrayed you? Am I the only one who ever thinks about clothing that dramatically?
Last Sunday, when I wore this outfit, was our first week with our new pastor and our new associate. It was New Priest Day. It's been a while, but I recall that the pastor's homily was about 30% introduction to him, 70% readings, which is not bad. I wish I could remember more, but this is why my new to-do list is serving me well. I have such a bad memory!
This week's Mass was today, so I remember that! I also have fresh photos of what I wore.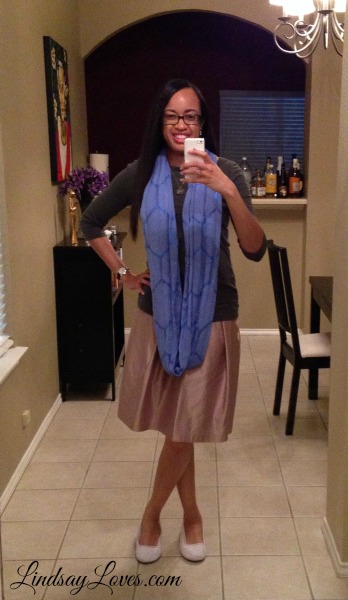 Skirt: Mossimo
Top: Target
Shoes: Fergie, Famous Footwear
Scarf: Target
Necklace: holy medals
This was an unusual outfit choice. I was so done with all my dresses this afternoon. It felt like a skirt day, and this one is too fancy for Skirt Day Mondays at work. It's a bit hard to tell from the photo, but the color has a soft sheen to it. The tag called it "wheat," but I consider it more of a light gold than khaki. I wanted to wear this olive neutral top, and white shoes, but I needed something to give it a little "pop". Enter the infinity scarf.
More like "invading: the infinity scarf." I've worn it in the standard double loop before, and I almost did that today, but I wanted to give the single loop a try. I think the color match was at least decent, but the length took over my outfit in hindsight. Oh, well. Not every outfit can be a win.
Our associate pastor celebrated Mass tonight, and his homily was not a win. It was going quite well at first. He opted for the short version of the Gospel (which made me a little sad), so I expected him to unpack the metaphor in his homily. As it turns out, his homily notebook had been moved between the morning Masses (there are 3) and the evening Mass (just one), so he ended rather abruptly, saving his explanation for later. He said he had a good story. Maybe we'll get to hear it in three years.
I hope you had a good Sunday, and that you have a great week!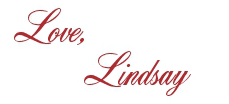 I bet you'll love these posts, too!