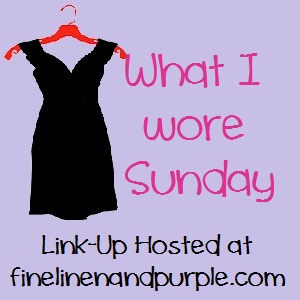 It was my birthday yesterday! As my new, much more mature self, I have decided that it's my birthday weekend, so I will do what I want, including wearing an outfit I've worn a dozen times before.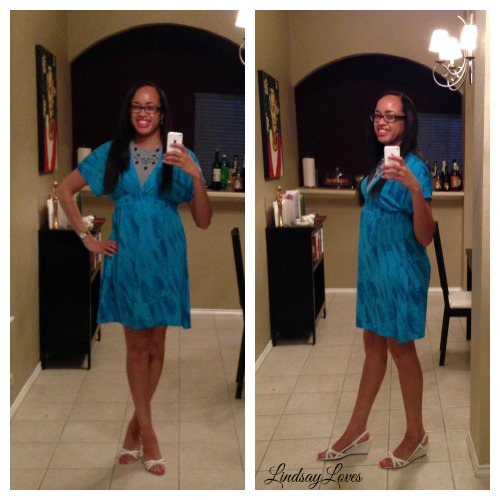 Dress: Mossimo for Target
Shell: Funky Frum (sadly out of business)
Shoes: Payless
Toenails: Wet 'n Wild in Lavender Creme
Jewelry: Charming Charlie
My mom sent me actual birthday presents this year. I was so surprised and excited! I only recently went to Charming Charlie for the first time. I was looking for a dress (which wasn't in stock at that location), but as soon as I walked in, I remembered my mom telling me about the place.
If you haven't been, you should go. Charming Charlie carries trendy, budget-priced jewelry and accessories that are sorted by color. So, if you need a silver evening bag (like I did in May when I was also looking for a dress), you don't even have to look at the green, red, or brown ones. They're in a totally different section of the store. And when I say "budget-priced," I mean a real budget, like my sad budget that is full of student loan debt.
My new affinity for Charming Charlie, my love of birthday presents, and my trust in my mom's taste made me extra excited to see that logo on the tissue paper these beauties were wrapped in.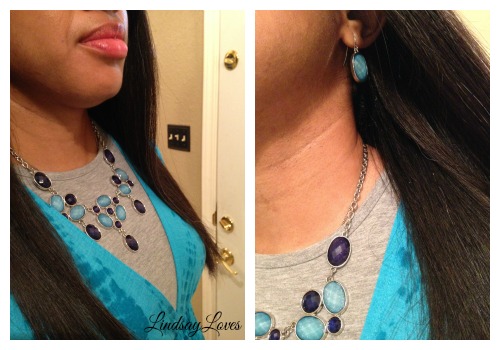 It came as a matching set, but I could definitely wear them separately. Since I have been building my wardrobe around blue, this is the perfect addition to my jewelry collection. It made this kimono dress feel like new and made me feel like a million stylish bucks.
Thus, many thanks go to my nearly-telepathic mom and Mr. Charming Charlie for his boutique. Check out what everyone else wore Sunday at Fine Linen and Purple.
P.S. I did not get paid to write this post, but I probably should have!