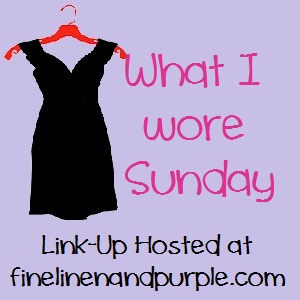 Right on the heels of my post from today about last week, here's what I wore this week. Whew! I am on top of things tonight!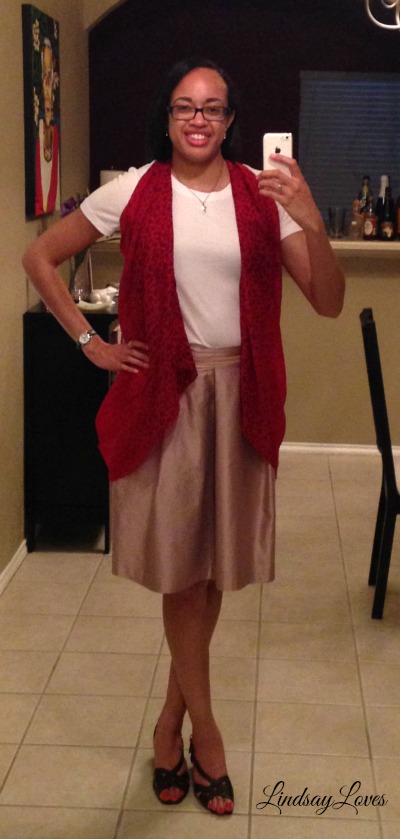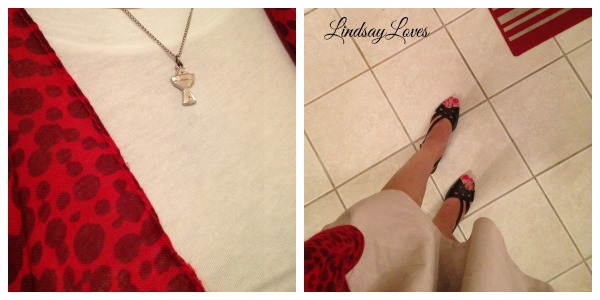 T-shirt: Mossimo for Target
Scarf worn as a vest: Target
Skirt: Mossimo for Target
Shoes: DSW
Toenails: New York Color, Pink Pomegranate Creme (again)
Necklace: First Communion present
Well, I didn't re-do my toenails this week, but I did remember to touch up over the chips before I went out in public, so that counts, right? Before I planned this outfit, I thought about doing red this week. Then I decided to sleep for that extra thirty minutes. I am satisfied with my decision.
You might wonder why I am so specific about this simple white t-shirt. I have been slowly building a wardrobe that has fewer t-shirts in it, actually. I'm aiming for a more grown-up style, and grown-ups don't wear so many t-shirts with stuff written on them. They definitely don't wear them to church. So when I spotted a bunch of shirts like this, I bought a pretty teal one. No writing, 60/40 blend, great fit, basic cut. I had to go back to Target later during the week, so I swung by that rack just in case because my Cartwheel coupon was still valid, and they had been marked down even further! So I bought three more. A $15 splurge isn't that bad, right?
On to my scarf vest. I started using Pinterest mostly for hair tutorials, but I've branched out to recipes and style tips as well. My goal is to actually try as many pins as possible. I've posted a few successful sock buns to my Instagram feed. This is one of my favorite style pins, though: how to turn a giant scarf into a vest.
It's super easy! I've worn this with a red shirt and basic black pants to work a few times, but this is the first time I've tried styling it for Mass. I'm not quite sure my shirt is fancy enough (despite its ridiculous level of comfort), but I am glad I went with neutrals under the red.
This particular scarf is awesome tied like this. It has a random pattern of dark red spots that fade toward the center of the scarf, so it adds dimension to the billowing of the scarf-plus-skirt combo. You can see the spots in the close-up on the left above. Around my side and toward the back, the solid red shows up.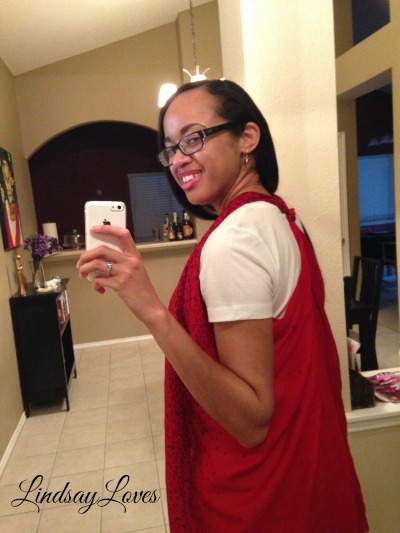 My hair accidentally looks super short at that angle, but I promise I did not suddenly cut off all my hair between photos. If you have a large, lightweight scarf on hand, give this a try!
We had Fr. Associate Pastor again. In the six weeks since Msgr. Retired Pastor left, we've only had our main pastor twice. I'm trying to get to know him, but it's hard when I show up and he doesn't. Patience, Lindsay, patience. His homily this week was about the importance of protecting nature, God's creation, to which the natural law first applied. I've read many discussions about natural law, but I don't think I've ever actually connected the dots that natural law applies to nature as in the Earth as well as human nature. You learn something new every day! I am humbled.
Both Elijah and Peter had encounters with the tougher side of nature: an earthquake, fire, and the sea during a storm. In both cases, though, the Lord was present and in control. There was nothing to be afraid of. That didn't stop either man from feeling fear, though. In the end, they recognized the presence of God despite the fearsome movements of nature. These days, man is much scarier than nature. How can we find God in our hearts despite our natural impulse to fear?
Check out what everyone else wore over at Fine Linen and Purple.