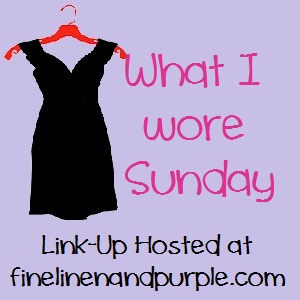 I had a weekend full of events, and none of them was cleaning the house! It's hard being popular. I wore this outfit much longer than usual and am much more tired than usual in this photo and as I type.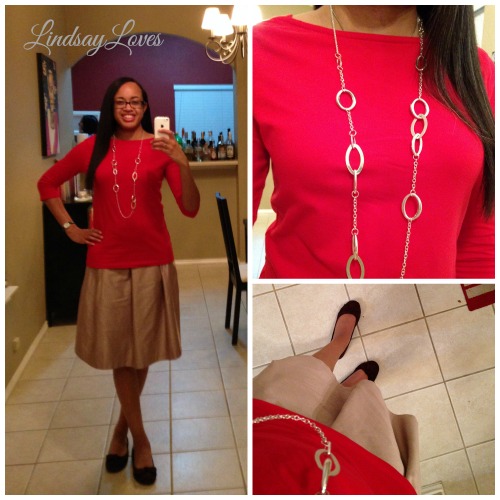 Top: Target
Skirt: Mossimo for Target
Shoes: Payless (they have cute bows on the toes that you can't really see in the photo)
Necklace: Target
I didn't realize until just now that this outfit embodies my love of budget fashion. I selected these particular pieces because I volunteered today at the first session of the Pure Fashion Austin year [warning: auto-play video at the link]. We were instructed to wear "fall fashions," and since it's not even a little bit cool, this was as close as I could get. In my defense, our leader was wearing a white dress with her jean jacket and boots. If she can wear white after labor day, I can fudge my definition of fall. This is fall in Austin!
I think this necklace is one of my favorite purchases. It gets in the way a little bit, but I like the length and its versatility. Initially, I chose it to make an old dress feel new when I wore a dress to a wedding after wearing it to another wedding nine months later. It mostly did the trick, but its value as an outfit completer can't be overstated.
I went to a workshop yesterday morning, so I got a homily/speech from my pastor then. That mostly satisfied me through today's Mass with Fr. Associate Pastor. Father Associate's homily focused on doing what is right and what we say we'll do. Authentic actions speak louder than the most eloquent words. I definitely took that to heart. At Pure Fashion today, the models (high school girls who are participating in the program) identified modesty as more than just necklines and hemlines. It's also about attitude. Immodest actions can ruin the most covered-up modest outfit. There is hope for the fashionable future!
What did you wear to church today? Check out more posts at Fine Linen and Purple.