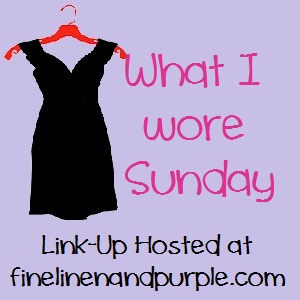 One of my favorite accidental results of participating in What I Wore Sunday is that I am reminded that I don't actually wear the same things all the time. My closet is not unlimited, and neither is my budget, but I have a surprisingly large variety of potential outfits.
Today, for example, when I was riffling through my closet wondering what to wear, I came across a summery dress. After a few storms, the cold front has departed, and Austin's endless summer has returned, so I knew I wanted something light and breezy. There are only so many Sundays until October, when it usually turns cool for the year. I grabbed my phone and checked my photos. I don't take many photos, so most of them are my Sunday selfies. (Unfortunately?) The last time I wore this dress was in March, so it was a winner. A slightly more summery accessory was all it took to make a "new" outfit.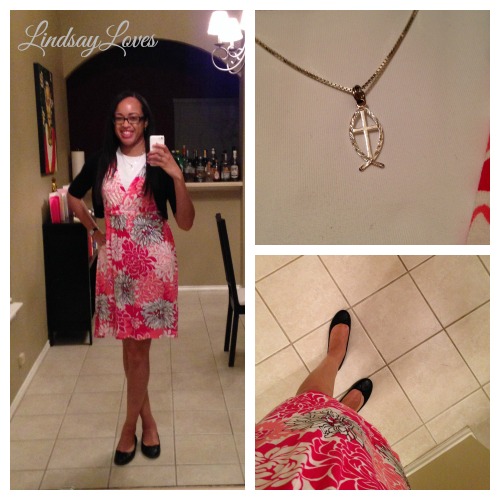 Dress: Ann Taylor LOFT
Bolero jacket: Target
Shoes: Old Navy
Necklace: gift
The last time I wore this dress was with a longer sweater because it was cold, and I didn't have this small one yet. I keep my eye out for pieces I'm seeking (a tip from Audrey that scored me my new leggings), and this had not turned up on sale yet. Hold out for sales!
In an exciting change of pace, we had our pastor for Mass! If he had been greeting when left the church, I would have said it was good to see him again, and it would have only been a little bit passive-aggressive. (What's the alternative? Just aggressive?) He gave one of his usual long homilies, focusing on the Gospel and how the workers who labored all day think it's unfair that the latecomers got the same wage. When I read that passage this morning (okay, afternoon; I struggle on Sundays), one verse jumped out at me. The day-long workers had agreed to the usual daily wage. They got exactly what the owner promised them. The late-start workers weren't expecting anything, but they got much more than nothing.
Fr. Pastor made two very interesting points. First, many of us churchgoers (the ones who were around to hear his homily at all) might be mistaking where we are in the heavenly paycheck lineup, so to speak. We think we're at the front, but it's entirely possible that we're dead last. Perhaps we should be praying that our heavenly landowner will be just as generous with us as he is with those who have worked longer and done much more.
Second, if you read before and after this passage, you'll realize that the parable is directed at the apostles and the mother of James and John, all of whom wanted prime positions in Jesus' kingdom. But everyone is equal as far as Jesus is concerned. First, last, second runner-up: none of that matters in heaven.
It took a while, but at the very end of his homily, Fr. Pastor said the keyword I'd been listening for: justice. God's versions of fairness, generosity, and mercy fit his framework of perfect justice. We humans attempt justice and necessarily fail because we are imperfect. In God's view of the world, those who come to faith on their deathbeds are just as saved as those who were baptized the day they were born (and hooray for that!) May we rejoice in God's perfect justice.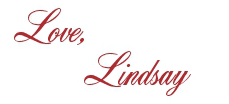 I bet you'll love these posts, too!