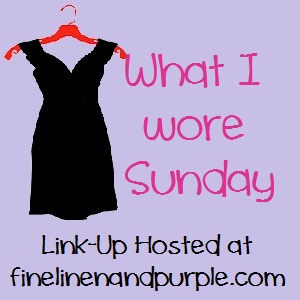 I posted for the Not Alone Series on Saturday, and I finished my 7 Quick Takes late last night, so it seems appropriate that I should do my Sunday post today. Take that, day-specific link-ups! I do what I want!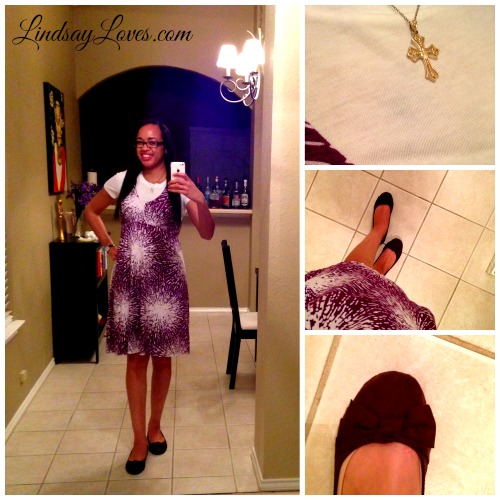 Dress: Old Navy
Undershirt: Mossimo (so soft…)
Shoes: Payless
Necklace: gift
I started selecting this outfit with the shoes. I didn't have to volunteer, so I knew I could wear what I wanted. Dance lessons switched to salsa, though, so I needed heels for that. The shoes I destroyed two weeks ago would have been perfect, but now they're in the trash, and I don't want to spend money on new shoes right now. I can't drive in my heels anyway, so I opted to wear the ones I think go best with this dress and to change for class.
The dress itself was due for a repeat. One of the benefits of taking a photo every Sunday is that I know exactly when and how I wore it last: in July, with a purple undershirt. That's a long enough break. I'm a regular person; I repeat outfits.
Was anyone else disconcerted by "molested" in the reading from Exodus? This was one of those times when I was most eager for the language from revised edition of the New American Bible to be applied to the lectionary. (I'd like it based on the RSV, but I also try to be realistic.) "Alien" is not the same as "resident alien," which calls immigration to mind, triggering a contemporary social issue. How's that for applying the Bible to our lives today? Even "resident alien" isn't the same as "foreigner," which ZENIT translates from Pope Francis's Angelus address. "Foreigner" wouldn't be quite as politically contentious, which could be a good thing or a bad thing.
I was also struck today by a tweet from Marcel LeJeune, a campus ministry colleague here in Texas.
When asked what the greatest commandment is, Jesus gives 2.
God isn't restricted to our expectations! #Jesus

— Marcel LeJeune (@MarcelLeJeune) October 26, 2014
God always asks for more than just "enough."
What I heard in my pastor's homily was a reminder that it is difficult to truly love God. The commandments were given for our benefit precisely because there are at least a few we would rather avoid if possible. If we hadn't been commanded not to lie, it would be even easier to do it. But we shouldn't; that's why there is a commandment. Further, it is difficult to love our neighbors, period, let alone to love them the way we love ourselves. Jesus doesn't give those as suggestions, though. They're instructions. They're requirements. Dealbreakers. You can't just love when it's convenient and the people who love you back. What kind of easy, lazy Christianity would that be?
I was glad to see our pastor again, and that was among my favorite of his homilies so far. He did make kind of a rude comment about the altar servers who did not show up, but I think everyone appreciated his commendation of the servers that did show up. He's expanded their responsibilities a lot, so they're working hard, and they deserved that recognition. I just wish it hadn't been overshadowed by an insult.
What did you wear on Sunday? Fine Linen and Purple seems to be on a bit of a hiatus. Swing by there anyway for encouragement and style advice.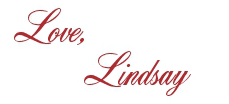 I bet you'll love these posts, too!