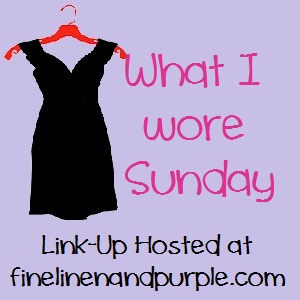 Today was a pretty good day. It was enhanced by my most excellent outfit choice, which I am still wearing as I type this.
Dress, sweater, leggings, and belt: Target
Shoes: Old Navy
I have worn this exact outfit before, but to a friend's baby shower and then to another friend's birthday party; not to church. It is one of my favorites, though. It's so comfortable that I decided to just keep wearing it while I took care of business around the house after church tonight. I love it when I can dress liturgically, stylishly, and comfortably all at the same time!
I struggled with this belt, though. It was my very first skinny belt, so I bought it in a size that I can buckle. The problem is that, since I expanded my skinny belt collection, I've gotten used to wearing them pulled to the correct size, not buckled into it. The notches in this belt come to two sizes on me: "ouch, that's squeezing my ribs" and "must fold hands carefully so I can subtly hold this up with my forearms." I initially dressed in the former size, but I switched to the latter before I went inside the church. It didn't fall during Mass, though, so I call that a win.
One of my favorite things about special liturgical seasons is that the Sunday readings align to a single, clear theme. I lectored tonight for the last time until February (unless I sub), and I think I managed to successfully say "Jesus Christ" four times and "Christ Jesus" once without sounding monotonous. That was a tough one.
Fr. Associate Pastor touched on the two meanings of Advent, which is a topic very dear to my heart. As the readings hammered into us, this is not just a season of cooing over baby Jesus and gathering gifts for the people we love in commemoration of the great gift of the Savior. It's also about recognizing that Christ the King (we talked about him last Sunday, remember?) will return in all his majesty to judge us and whether we will be saved.
Scary? A little. That's why this season is about watching, waiting, and preparing. Baby Jesus is coming (supernaturally) on December 25, but Jesus the Judge could actually come tomorrow. Are you ready?