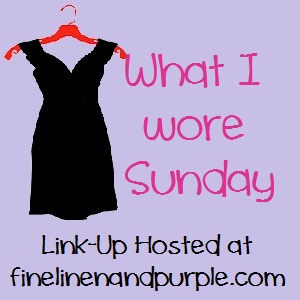 This was an event-filled weekend. I was off work on Friday, went to a wedding Friday evening, got my hair done on Saturday, and cleaned the house today. I got plenty of sleep, but due to being everywhere all the time (relatively speaking), I needed an outfit for church today that I could basically grab and run.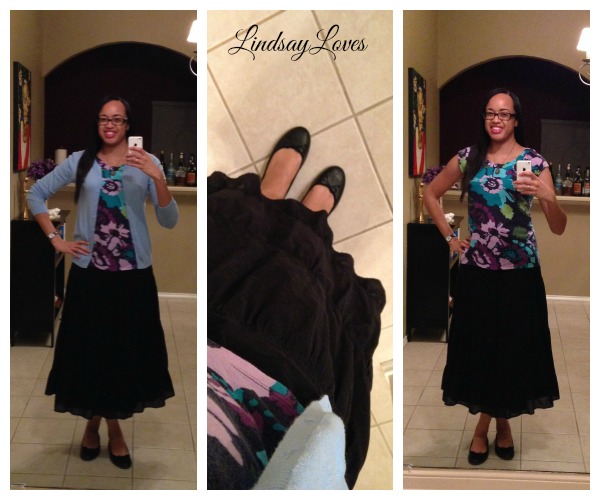 This entire outfit is from Old Navy! I didn't realize that until I started to describe it here. I mostly chose this combo because I needed something easy, something with pieces that I could just throw on and go. It was indeed easy, which was perfect because I underestimated the time I would need to clean half the house and eat, so I had about ten minutes to put on makeup and clothes before I rushed out the door. I don't recommend that plan. (I cleaned the other half of the house after dinner.)
The shoddy plan worked, though, because I was on time for church. I was even earlier than a friend of mine who lives closer and was an extraordinary minister tonight (necessitating an early arrival). In retrospect, with the sweater, it looks a little too tentlike. It's a little too A-line. I actually look like a capital A. The silhouette is better without the sweater, but I didn't want to risk being too cold. After several days of extreme cold, we've got mild temperatures again, and I don't want to get sick. I do prefer the color combination with the sweater, though. Oh, well. It's over and in the hamper now.
At Mass, Fr. Associate Pastor spoke about the necessity of staying close to Christ the way sheep would to a shepherd. When he's out defeating enemies, like St. Paul wrote, we need to be right beside him if we want to reap the rewards. It was a solid homily.
On the less solid side, I'm still pretty sure "Shepherd Me, O God" is not an acceptable substitute for Psalm 23. Furthermore, the Christmas outreach project coordinator gave a ridiculously long announcement after Communion. I watched her turn four pages while she was speaking. Four! I was already tired of listening and ready for the point before the first page was over. (I wasn't as tired as last week.)
If you're making an announcement, you get three sentences: one to identify yourself and what you're pitching, one to elaborate on the pitch, and one to direct us to more information. I used to work in ministry, and I made all my announcements like that. I got many compliments on my ruthless efficiency.
Do you detest long announcements like I do? Are you ready for Advent to start next Sunday?
---
Check out more Mass fashion and commentary at Fine Linen and Purple.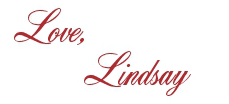 I bet you'll love these posts, too!