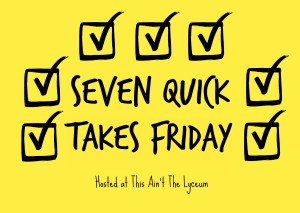 Why didn't anyone tell me that Twitter is the best way to have actual (Internet) contact with actual (Catholic) celebrities? I would have joined sooner.
Look, Fr. Mike Schmitz responded to my dejected tweet about his podcast not working!
@lndsyloves It will work again soon! The best people are working on it! =)

— fathermikeschmitz (@frmikeschmitz) January 15, 2015
Then, when I got my latest review copy from Ave Maria Press, I tweeted about it and got this enthusiastic response from Dawn Eden!
@lndsyloves Thanks much! So happy you'll be reading and reviewing The Thrill. Can't wait to learn what you think! @avemariapress @AustinCNM

— Dawn Eden ن (@mypeacebook) January 16, 2015
Dawn reached out to me through my blog after I reviewed the original edition of The Thrill of the Chaste. It turns out that she went to school with my old friend Fr. Leo (who I knew before he was a priest). She was my initial connection to Ave Maria Press, and I've had a great relationship with the publisher and the author since.
The world is so small.
My mom has a habit of giving us odd gifts at Christmastime. This year, in addition to a flower-print hammer/screwdriver combo, she gave me this unique Zipster Zebra water bottle.
http://instagram.com/p/x8SrzuIh66/
I forgot to add something for scale. Sorry! It's about the size of an Arizona Iced Tea… or a Four Loko. It's sparked some interesting conversations around the office, believe me. The best result, though, is that this bottle alone has helped me drink more water. It's the opacity. Since I can't see how much is left, and the double walls add more weight than I'm used to, I often find myself sadly facing an empty bottle. Then I get more water and I'm happy again. Who knew changing my tool was the key to healthy hydration?
I mentioned in the February part of my year in review that my diocese is developing a pastoral plan. After the SurveyMonkey and the listening sessions, they presented to the steering committee. (I'm no fool; I know they have listened but will make all the decisions. I feel the same way about this that I feel about the pastoral survey before last fall's synod: I'm glad they asked at all!)
I've been trying to recap the survey results since they came out in May. The report should be released in about six weeks, so this seems like as good a time as any.
It's a happy PDF, I must say. The respondents were 20% under age 30, almost 75% have at least one college degree, 87% go to Mass every week, and just over 50% say their faith is the most important thing in their life, all of which is fantastic (and, full disclosure: include me). Priests identify preparing people to witness (i.e. actively evangelize) as something to emphasize. Most of the news is really good news. Good job, Austin!
I was surprised and delighted to see that the pastoral plan survey identified preparing to witness as a potential area of emphasis for parishes. I absolutely agree.
I was in a FOCUS Bible study when I was in undergrad. They didn't have the apologetics study yet, but we did talk about preparing a witness, a.k.a. giving your testimony. It's not a common habit among Catholics—although we do love conversion stories—but ask evangelicals for their testimony and brace yourself for the passion!
A testimony/witness is the story of how you became a Christian (or a Catholic in particular), when you met Jesus, or how you came back. The mechanics of preparing a testimony is too much for one Quick Take, but I will say that when I started preparing mine, it not only enriched my faith, it built my confidence. I can explain how I came to faith in less than 30 seconds (the elevator pitch) or less than 5 minutes (the "tell me your story"). I'm still polishing my 30-minute pitch.
Do you have a testimony? If you have an elevator pitch, please share it in the comments!
<a href="href="http://9daysforlife.com">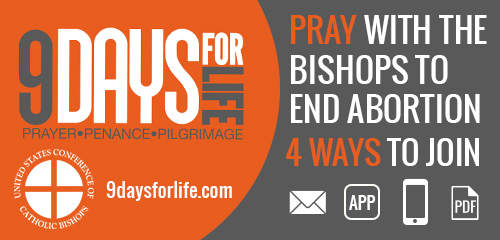 Tomorrow (Saturday) begins the Nine Days for Life novena sponsored by the USCCB. Sign up by email, join the Facebook event, or download the app to receive a prayer, reflection, and act of reparation for the days surrounding the anniversary of the Roe v. Wade decision. It's well-written, actually doable for regular people, and not just anti-abortion (despite what the image says).
That last part is one of my pet peeves about the pro-life movement. We've made great strides toward showing love for and tangibly helping women and couples instead of just their babies. Now we need to also remember prisoners in danger of execution; people who are elderly, ill, or have a disability who face coercion to euthanasia; and all people who don't feel genuinely loved simply because they exist. You shouldn't have to earn the respect of others to stay alive.
It's not the March Against Abortion; it's the March for Life.
I didn't do much this week, at least not in terms of calendar events. Spirit & Truth started up again on Monday. It was so good to see everyone, to hear them share their blessings, and to be with Jesus.
I went out for social hour afterwards, so I stayed out past my bedtime. That's a literal bedtime; I have a phone/calendar alarm for it, and it went off when I took out my phone to record paying my check in the YNAB app. Staying up and out so late meant I was drained the next day, so I skipped the bigger happy hour I'd planned to attend.
I waver right on the line between introversion and extroversion. Sometimes my introvert side pops out. My Monday-to-Tuesday shuffle showed that it was out in full force this week. To recover, I stayed in and started watching my way through Merlin on Hulu.
I use my work IT guy to help manage my personal computing life. He emails us to alert us to Microsoft's Update Tuesday. I use that as the reminder to do my computer maintenance and cleaning at home. I cleared off my computer desktop on impulse tonight, and I feel so free! I only have two icons: the Recycle Bin and the drop converter for PrimoPDF. Ahh.
(I highly recommend PrimoPDF, by the way. It's free and works like Adobe Acrobat to convert documents to PDF. I use it all the time to "print" from the Internet.)
For more Quick Takes, visit This Ain't the Lyceum.