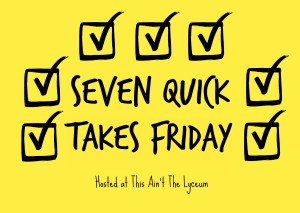 This was a quiet week but nonetheless a good one. Our kitchen light fixture started to die unexpectedly a week and a half ago, so we've been cooking with ambient light from the dining room, eat-in area, and oven hood. There is nothing quite like dicing onions in the dark, let me tell you. Living on the wild side!
Our landlord sent an electrician to install a whole new fixture on Wednesday. It's very pretty, but I'm still getting used to the brightness. I had to replace the bulb in my bedroom last week, too, so I am literally walking in a whole new light.
I went with some married friends to the Texas Rally for Life on Saturday. It was good, in the sense that I wish it was unnecessary but I'm committed until that happens. Pro-life marches and rallies are the only political activism I ever do. It took a solid year for me to work up the courage to at least try it, and that was back in DC, where the March for Life requires taking public transportation, is held on January 22 (frequently a weekday), and promises cold and wet weather. Yet I march.
http://instagram.com/p/yQPvbWIhxd/
I thought this year's speakers were much better than last year's. I missed having Governor Abbott there, but I had no idea his daughter was adopted or that his wife has credentials for days. Abby Johnson always does a great job speaking, not in the least due to her incredible witness. It is literally incredible: her stories are terrible, but they are both true and factual. Bishop Joe gave the invocation, as he did last year. He once again managed to offer a prayer that nailed the tricky middle ground between being overtly Catholic, firmly Christian, or vaguely God-directed. I've tried that myself; it's hard. I also really enjoyed the closing prayer offered by a Baptist minister. I found myself really getting into it, which is unusual. Charismatic prayer is not usually my thing, but I've had bigger surprises.
I decided not to make or carry a sign. I am my sign. Even if you don't speak to me at all, you can see that I'm young and black (or at least brown). That's the only sign I need. I march for black women who are pro-life but fear speaking up about it. I march for young women who feel like they would betray second-wave feminism if they didn't at least tacitly support "choice." I march for people who can't, who won't, or who don't yet. And I intend to keep marching until I can't or don't have to.
One thing in particular did concern me about the Rally for Life, though. It wasn't just that it's effectively just the Christian Rally for Babies & Moms. That's an issue for another day. It was the counter-protesters.
In the years I went to the March for Life in DC, it became almost a game to try to spot the counter-protesters and confirm that theirs would be the only photos to show up in the news. Every year, there were maybe 100 pro-choice protesters. I only knew that because they were inevitably photographed by the Washington Post at an angle that made their group look much larger. I never actually saw them in person, though. I was buried in the throng of literal thousands of pro-life people filling up South Capitol Street.
Here, last weekend, I gave my usual response to our pro-choice counter-protesters: I ignored them. It's not hard to ignore a few dozen people. What really left me confused was the small counter-protest rally my friends and I passed on the north side of the Capitol building as we headed home. Don't get me wrong: they have absolutely as much right to hold a permitted protest rally as pro-life marchers do. The problem is that I didn't know they would be there. Granted, gathering 100 people and a sound system to match doesn't take much. We used to do that for Ash Wednesday on campus every year at my old job. But I did some research when I got home, and I still have no idea who was in charge. Did the Texas Alliance for Life know about it? Is this going to become an annual thing until we're battling for audio space?
If they were trying to leave me unsettled, that worked, honestly. But I'll be back next year.
Last Friday, I went to dinner with some friends. It was the birthday of my former roommate's husband. (He's my friend, too.) I've missed small group dinners since our young adult group disbanded, and I don't get to see the birthday boy and wife much, so I gratefully accepted the invitation.
The weird part came when I realized who else would be attending. My former roommate, her husband, and six of the other attendees comprise couples married in the last 19 months. My (male) friend Sam and I were literally the only unmarried people among the ten of us. Somehow, we manage to split up men and women when we gather in Catholic groups (which is not conducive to getting the single people married), so I wound up having dinner with four recently-married women.
Naturally, the conversation turned to my love life. I'm not opposed to my friends keeping me on their lists, but I still felt awkward being singled out like that. (Pardon the pun.) It was as though the group suddenly took on the mission to Get Lindsay Married. I don't usually get that kind of pressure, not even from well-intentioned friends. It was not pleasant. Of course I want to get married, but talking about it openly and often is a recent development. Am I alone in this?
All these restive feelings have been balanced out by Fr. Mike Schmitz's homilies. Seriously, they're fantastic, and you should listen. I get sad thinking about how I'm eventually going to catch up and then have to wait a week between homilies, like a caveman. Until then, I am tweeting quotations as I go.
"If you and I are going to become mature Christians, the Cross of Christ must be at the center of our lives." —@frmikeschmitz

— Lindsay Wilcox (@lndsyloves) January 29, 2015
Check out that favorite!
I can't stop thinking about a particular Verily magazine article, on the real meaning of feminism and equality, since I read it. The author expresses an opinion I have long since held, but she does so eloquently and personally. Here's the excerpt that made me realize I'd found a kindred spirit:
There is something about the way that we discuss gender equality that unsettles me. Take me, for example:

I majored in economics in college because I like it and I'm good at it. I took an economics class in high school and found that my mind clicked into the subject in a way that it did not click into others. Majoring in it seemed to me like the next logical step. When I announced my decision, however, my peers and mentors encouraged and applauded me with an urgency that confused me.
"Only 15 percent of economists are female," they exclaimed.

"We need more female economists," they would say, "We need more women pursuing quantitative subjects."

Don't get me wrong, I was grateful for the encouragement. I was happy that my success in economics was regarded as a necessity by my professors, advisers, counselors, and friends. But it was their collective reasoning that disturbed me. My interest and ability did not necessitate my success, according to them—my gender did. They seemed to think that because roughly half of the world's people are women, so too roughly half of the world's economists ought to be women. The ratio of women to men in the field is lopsided and thus, unacceptable.
It only gets better from there. Her reasoning is on point, and I agree with it wholeheartedly. Check it out at Verily, and subscribe to their daily emails while you're there. It's one of the best items in my inbox.
One last tweet. I haven't yet shared the rest of my love story with my budget, but it's coming. Trust me. I did have a huge financial accomplishment this week, though:
My bonus hit the bank, so now I am fully buffered after 8 months! @ynab leads to freedom. #gratefultweet

— Lindsay Wilcox (@lndsyloves) January 28, 2015
In a nutshell, this means that I am now one month ahead on all my monthly expenses, including savings. I feel excited, a bit dumbfounded, and joyful. More soon. In the meantime, visit YouNeedABudget.com (referral/discount link) and start your journey to freedom.
For more Quick Takes, visit This Ain't the Lyceum.