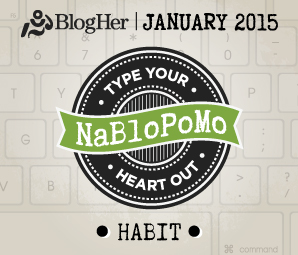 January ends today, and with it, my second solid attempt at NaBloPoMo. November 2014 went very well. This month felt kind of blah but was a huge boost nonetheless.
I am still a big fan of link-ups and memes to draw in new visitors and give me ideas. I really liked this month's NaBloPoMo prompts. Habits are a huge part of who I am, so I enjoyed the opportunity to stretch and focus a little bit.
My traffic is still on an incredible upswing. My total page views are up 25% from November after a small drop in December. I reached nearly 11,000 views for the year, and I did more than double my average views per day from 2013 to 2014.
Yet the goal of posting every single day eludes me. I think it always will, honestly. I have explained/not explained past seasons of scant posting by noting that I have to be out living my life to have anything to blog about. Sometimes I just don't want to blog, and sometimes blogging is not a priority. I'm still not making any apologies for that.
I think it was my nomination for the Sheenazing Awards that made me realize (a) how far I've come as a blogger in the last year and (b) how much I want my other blogging friends to enjoy the same success. As I commented on Kendra's Sheenazing post, since I regularly read so many blogs in the "Under-appeciated" category, we must have just been hanging out with each other this whole time!
In that vein, I would like to introduce you to the charming Christina of Waltzing in Beauty.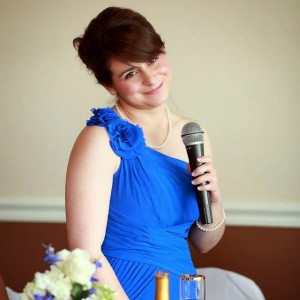 Christina and I met (first by email and then in person) in the wedding of a mutual friend. Her kindness cannot be overstated. I have a mini superpower of being able to tell when I've found someone I just "click" with. I got that feeling with Christina. Fun fact: She is engaged to be married to her ballroom dancing partner (which is also how she met our mutual friend, I think)! Christina blogs about beauty, joy, and seeing the brighter side of life.
I love reading Christina's writing. I can only imagine that planning for a wedding and then being married will probably change her posting pattern, but I wanted to take the opportunity to expose her to my audience (which isn't very big!) and encourage both us to post more. When Jen Fulwiler hosted 7 Posts in 7 Days, I was on a big swing of not blogging, so I missed out. But no more!
Christina and I have pledged to write 7 posts in the next 7 days. That is ideally once per day, but you've seen how well I do with that. "7 in 7" leaves some wiggle room for those days that are so ridiculous I wonder whether I am secretly being filmed, like in The Truman Show.
So go check out Christina's blog, subscribe here and there if you haven't already, and brace yourself for the awesomeness!