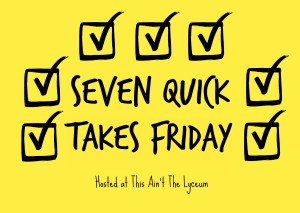 My neighbor almost ran me over yesterday.
We have central mail delivery units in my neighborhood: those big banks of mailboxes instead of the kind that go on your curb or on the house. Mine is pretty close to my house, so I usually park in my driveway and walk down there to get the mail. There's a small street to cross, and there isn't much traffic, but I live on the main vein into the neighborhood, so I always keep my eyes peeled for cars that aren't expecting pedestrians. As my mother always says, if you step off the curb in front of a car doing 80 because "you have the right of way," it's your own fault that you get hit.
This wasn't my fault, though.
It was dark when I got home yesterday, but the rain had slowed to a sprinkle, so I took my chances and went for the mail. My next-door neighbor (who I've met in the daytime and like just fine) was going for his mail, too, walking about ten seconds ahead of me. My across-the-street neighbor had pulled over next to the mailboxes, on the wrong side of the street, to get his mail, so he was climbing back into his pickup truck just as I set out. I kept an eye on the truck. I always stay vigilant. Maybe the other car didn't signal, or you had the right of way, but if you get hit, your car's going in the shop, too.
And if you get mowed down on foot, you'll be in the hospital.
The truck-driving neighbor got back into his truck, and I saw his reverse lights come on. I thought, "Is he seriously going to back his truck all the way to his house?" The truck started moving, so, yes. I kept my eyes on him. He was going way too fast: too fast for a neighborhood street, too fast for after dark, and too fast in reverse. I had already started to cross the street at the corner when he started backing up, and my fast mental physics made me realize that, since he probably wasn't looking, he was probably going to hit me.
I picked up my pace and half-speed-walked, half-skipped onto the curb. The truck driver, still in reverse, whipped around the corner backwards and stopped on a dime. I could hear the music from his truck, so it's possible that his window was open, but I decided not to turn around. I heard him pull toward his house, this time forwards and (coincidentally?) on the right side of the street. I just kept walking.
After I got my mail, I went back to my house.
Stories like that make me so angry, even when they don't happen to me. It only takes a moment or an inch for a near-miss to become a news story. What if I hadn't looked half a block down the street I wasn't crossing? What if I expected him to follow traffic laws? What if I had been walking a tiny bit slower (which is possible, because I walk pretty fast)? What if I hadn't picked up my pace enough? What if I had been a child?
It's a sad state when I have to guard myself that much against the foolish actions of other people. And now I really don't like that neighbor.
Today is the last day to vote (hopefully for me) in the Sheenazing Awards! Click the photo of Venerable Fulton Sheen below for Bonnie's blog post, which includes a link to the ballot and a list of other fantastic bloggers. I apologize now for the bloat in your preferred RSS reader and/or email inbox.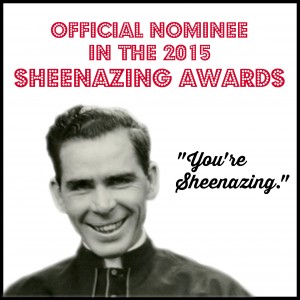 If you're into personal finance at all, now is a great time to pull a free copy of your credit report. The federal government requires all three credit reporting agencies (Equifax, Experian, and TransUnion) to provide you with one free copy of your credit report each year. Each agency takes requests separately, though, so you can adopt my strategy and get one now, one in May, and one in October, or you can get all three right now.
The site to use is AnnualCreditReport.com. There are other sites with similar names that are not operated by the federal government or not free. This one is legit. You will have to provide your SSN and answer a few tough questions about your credit history. That makes sure it's you. They're so detailed that I actually had to look up the answer to one of the questions.
Also note that a credit report and a credit score are two different things. Your report shows all your credit cards (open and closed), all your loans (open and closed), mortgages, hard inquiries, etc. If anything is missing or incorrect, you have the right to contact the credit reporting agency to fix it. Your score, on the other hand, is a magical, mysterious number that I am almost convinced is produced out of thin air by dragons. (Can you tell I'm enjoying having fantasy back in my life?) If you have any tips on keeping track of that for free, I'm all ears.
When I went to request my credit report, I was so glad to see that AnnualCreditReport.com was finally redesigned. I planned last fall to start requesting my credit report quarterly. I wasn't planning on getting any new credit, so I figured I could wait. I did go visit the site, though, and it was so sad. The design was stuck in 2005. It did not look authentic at all, but it was.
It is long past time to acknowledge that good website design is essential for 21st century business, and as with most things, if you want the good stuff, you will have to pay accordingly. Just do it.
I finally took down my Christmas tree and mini-Nativity scene on the 13th. Part of my delay was a desire to keep the Christmas spirit alive through the whole liturgical season. Part was laziness. Part was having a fake tree. (Would we have the Annual Christmas Tree Fight if fake trees didn't exist?)
I'm torn over my cards, though. I don't use the top of that bookshelf for much. It makes me feel so happy and loved to still have them up, although it is annoying to walk by too fast and have several topple over in the backdraft.
Maybe I need a prayer ritual like the Whitaker Family's. It seems such a shame to go back to my boring, bare bookshelf (well, it has knickknacks), but Christmas is definitely over. Lent is less than one month away. Can I use them for Lent somehow? Any ideas?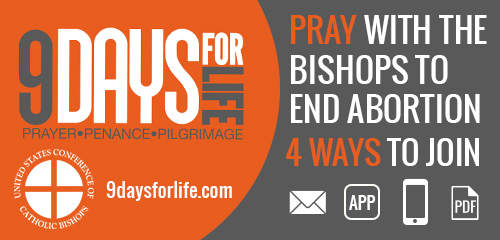 Today is my favorite day of 9 Days for Life so far. The intercession is "for an end to the use of the death penalty in our country." I have half a mind to make a sign for the March for Life tomorrow that says, "Criminals have human dignity and the right to life, too. Please don't kill them, Governor Abbot!" I have never been a fan of rally signs, though. You always get tired of them before it's over. I'll think about it.
I also enjoyed today's act of reparation. I chose to use "Read about a Church teaching you don't understand in the Catechism" as my motivation to read The Battle of Prayer, which Fr. Mike Schmitz recommended in his homily seven years ago but I heard in the podcast archives last week. It was enlightening. In such a short space, it covers spiritual drought, distraction, acedia (laziness), and our inclination to ask for a response to our petitions but not to our praise or thanksgiving. It's good stuff.
For more Quick Takes, visit This Ain't the Lyceum.