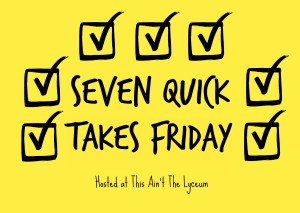 Aaaaaand I'm back. I had such a good plan for these last few weeks of blog posting, but then my time and energy limitations hit me, and I was forced to revise. I did everything I had to and most of what I wanted to, though, so I'm calling that a win.
The two big rocks in my week (last week) were my Austin CNM post and the Pure Fashion (auto-play music at the link) Heart & Soul Makeover Retreat.
I had long planned to review the African American Catholic Youth Bible for my Austin CNM post due February 17, but I neglected to realize how long that would actually take. A word to the wise: reviewing a Bible does not go quickly. I grossly underestimated, so I stayed up extra late on Monday night and even later on Tuesday night to get my post up on Wednesday morning. You can check out the resulting review yourself.
My second big rock, the Pure Fashion retreat, was much more pleasant, although no less tiring. I knew it was coming, so I had planned out my time and to-do's, but I hadn't counted on the preceding days of exhaustion. Wednesday night was not enough time to catch up on sleep. I left for the retreat straight from work on Friday, so I had to be completely packed and ready to roll before bed on Thursday. You can guess how that went: organized but too quickly.
The retreat itself was delightful. My involvement in Pure Fashion largely consists of showing up, dressing fashionably, and doing whatever Anna tells me to do. I did that, and it went well. Most retreats I've been on have been all work or no work for me. This was in between: I was working it, but I wasn't in charge. I got to serve and participate without having to give everything. It felt right.
The schedule required only one overnight, which was perfect. My biggest challenge was staying awake when the lack of sleep caught up to me. Saturday was tough. Narrowing beating a huge Coke Zero for the drive home, my biggest win of the weekend was managing to sleep at all in the shakiest bed ever. As I mentioned in my AOP post, I am a top bunk girl, but I've never slept in any bunk that shakes wildly if I move at all. I was thankful for a bed and heat, and that was about it.
My third big rock was, of course, Ash Wednesday. I followed my plan from last year: eat a regular lunch as my main meal for the day, go to the library straight from work, arrive at Mass early but not too early, and have a snack/small meal for "dinner." My timing was off, such that I didn't actually go into the library so much as read in my car in the library parking lot, and I managed to arrive at church right as the previous Mass was ending (worst time ever), but the day overall was quite satisfying. I wrote the most detailed version of my conversion story yet, although it's not the whole story. Only I know the whole story, and I like it that way for now.
It's been ten good years. Here's to a lifetime.
As Elizabeth always says, you really should call your mother. I used the old-calendar celebration of a saint (brought up in my Evangelio Del Dia emails) as a reminder to call my grandma. That has to count double, right?
I was supposed to start my Lenten Bible study on Wednesday. (I'm just going, not running it.) Instead, I came down with an intense cold.
I had a cough on Tuesday, but I've had that before without really being sick. This was sick. I was making fajitas and talking to my BFF on the phone on Tuesday night when I got that achy, itchy feeling I always get when illness descends. On Wednesday morning, I coughed myself awake before my alarm. I got out of bed to call in to work (okay, to email in), but everything hurt so badly and immediately that I sat right back down and just emailed from my phone. #21stcenturysickday
Sleeping in until 11 and laying around the house all day was enough to get me back to work yesterday. I can only feel the sickness in my face now, and I think my appetite is back, so my weekend plans are still on. Hooray!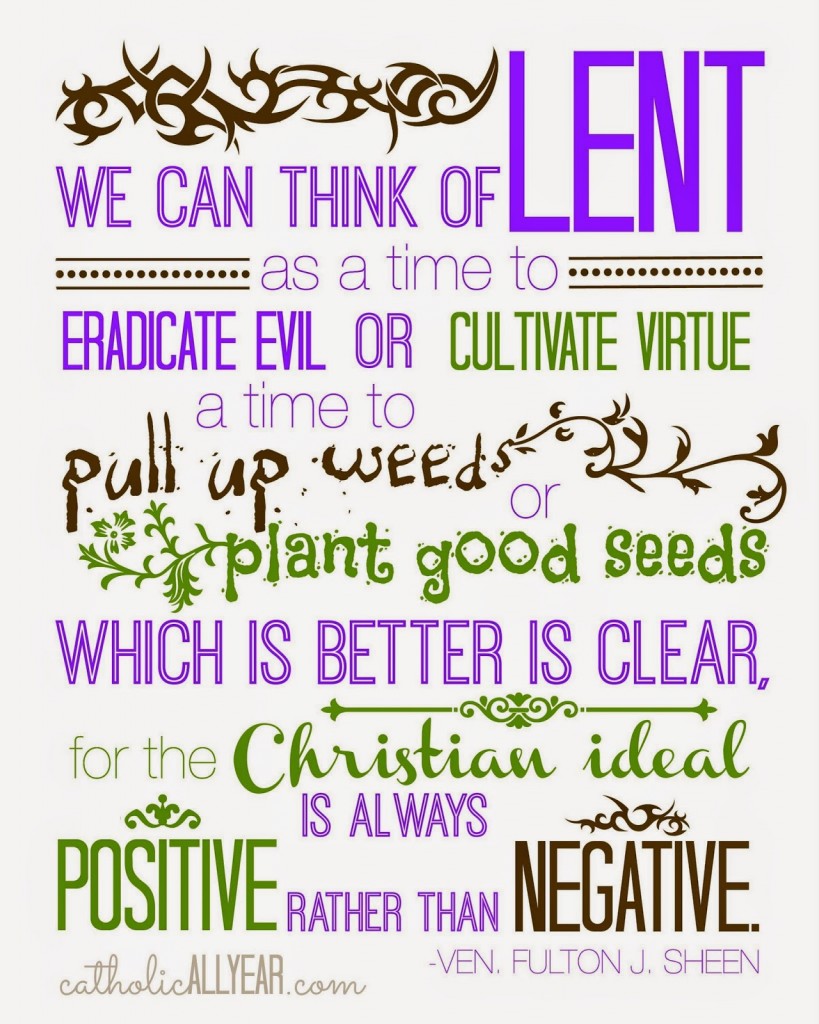 This is what I was trying to say in my Lenten quick takes last week. Thanks, Kendra (and Venerable Fulton Sheen)!
Speaking of Lent, since we're about a week and half in, now is a great time reassess your plan. It doesn't matter what the plan is. Just decide whether you are doing well, need to redouble your efforts, or would be better off at Easter if you changed your mind now. Then do it. Today.
For more Quick Takes, visit This Ain't the Lyceum.