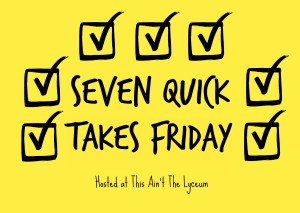 Before Easter, I did not exercise. At all. I know, I know. I had already taken baby steps to improve my health by eating fruits and vegetables, drinking more water, and flossing. My struggles with spending my time/life wisely always made me think I just didn't have time to exercise. And I didn't have any exercise clothes anyway.
Of course, I am now hooked on the form of covert exercise that is social dancing. Wearing regular shoes to class and socials (because I don't have dance shoes yet) is bad enough. It was time to invest in some proper exercise clothes. A sale came along for the Old Navy Active line, so I bought a few tops and wore one to class last night. Worked like a charm!
I'm still searching for modest bottoms since I just can't justify wearing yoga pants or leggings (without a skirt over them), but I think I have tops covered. This whole concept of regularly breaking a sweat is new to me, but at least it's more comfortable now.
Most of adulthood is agreeing to be awake when you don't want to be.

— @midnight (@midnight) June 19, 2015
Story of my life.
"In the case of good books, the point is not how many of them you can get through, but rather how many can get through to you."
—Mortimer Adler
from the Catholic Education Resource Center newsletter
I had the joy of attending an Ordinary Form Mass in Latin at St. William Parish this week. If not for Cris's post at Austin CNM, I would have missed it completely. I hadn't been to one since college, so it was great to dust off my chant and pronunciation muscles.
Even in Latin, the Ordinary Form (a.k.a. Novus Ordo) is what most people think of when they picture a Catholic Mass. The Ordinary Form in Latin is just like going to Mass in Portuguese, Russian, or any other language one doesn't speak. The one with different parts and the priest facing the altar is properly called the Extraordinary Form, and it is only in Latin.
I don't like to call that second one the "Traditional Latin Mass" or even "Latin Mass" for three reasons:
I don't use the word "traditional" that way. It's too political and vague.
The Ordinary Form has been around for 50 years. Something that happens basically every day for half a century sounds pretty "traditional" to me.
You can celebrate the Ordinary Form in Latin. This is what St. William did this week.
Personally, I didn't have much trouble with the language. I speak Spanish, so Latin is recognizable. It was the same form of Mass I usually attend, so even when I got lost in various phrases, I could pick out key words and movements to use as anchors. It was very similar to going to Mass in Spanish, actually.
My only linguistic surprise was when Mass turned out to be not in just two languages, but three! The Liturgy of the Word (minus the Creed) was all in English, which I appreciated. I was still startled when Fr. Uche began speaking Spanish during his homily! St. William has a huge Spanish-speaking congregation, but I forgot that Fr. Uche speaks Spanish.
I had the same assessment that I always do when something is presented bilingually: the Spanish always seems more direct. Latin does, too. English can be wishy-washy.
About that Creed: whoa. I have never even attempted to chant the Creed in Latin. Of course it was the Nicene Creed; go big or go home. It was exhausting! The music took up more than two pages of the worship aid. We all survived, though.
The hardest part for me (and probably most attendees) was the sheer volume of Latin chant. There was very little Latin speaking for the congregation to do. The parish wisely provided a complete worship aid, although the music was in chant notation. Many people don't read music; fewer people read chant notation.
Before that chant Mass back in undergrad, we had several weeks of (optional) practice of the Gloria, Sanctus, and Mystery of Faith. That was in modern notation, though. We always ended our weekly group holy hour with the Salve Regina, so I had seen chant notation before, and I had done a little research. I also read music. Yet I still struggle with chant.
My parish in Montgomery only ever chanted the Gloria in Latin and a cappella, so that was almost second nature. It's long, though, so I need to read along every time. That was no problem this week.
Most regular Massgoers can sing the simple tone of the Agnus Dei; it's commonly used during Lent for greater solemnity. On Wednesday, we used the solemn (read: fancy) tones for everything. Tough going, but the Creed was toughest!
In the midst of all that chanting, I learned an important lesson about chant: if you miss the beginning of a syllable, it is very easy to get lost. In solemn tones, one syllable can last for several notes. Imagine Mariah Carey stretching "oh" for three or four beats of music, and you have an idea of what chant syllables are like.
Overall, it was so much fun. I adored our recessional song, "O With Thy Benediction" (PDF link), because it was packed with theological goodness and to the same tune as "O God, Beyond All Praising." Going to Mass in any language besides English is great because I am forced to pay attention. If I don't follow each word and action, I'll get lost, and then I'm not really praying, am I? Yet even when I don't know any of the words, the foundational prayer of the Mass is the same. That is the beauty of a universal, catholic church.
---
For more Quick Takes, visit This Ain't the Lyceum.