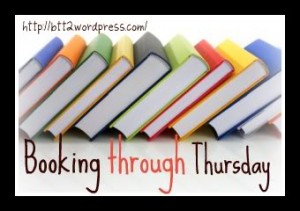 When you travel, do you bring one book with you or a pile of them? Is that pile still a load of paper to lug around, or do you use an e-book reader like a Kindle or your iPad to help carry the load? (Even if you prefer paper, it can get heavy when you're traveling!)
Great question! I struggle with this concept every time I travel. I don't travel much, so that helps resolve the twin dilemmas of one versus many and paper versus e-book.
These days, I bring just one book, and it's a paper book. (It is usually also a paperback.) I used to justify carrying a real book because I didn't have an e-reader or smartphone anyway, and it doubled as a boarding pass holder. Even after I converted to mobile boarding passes, I still carried a physical book because you could keep reading while electronic devices had to be shut off. Now that that is a thing of the past, and I'm using my phone more for non-reading tasks, I carry a physical book to conserve battery life. Also, I am a creature of habit.
The real problem for me lies in projecting my progress. If I'm almost finished with a book, I want to finish it before I start a new one, but I also don't want to finish my book too soon and be stuck without anything to read for days. Sometimes, I have to just quell my inner organizer and start a new book for the trip. I rarely quit a book without finishing, so that usually takes care of my trip reading.
A few years ago, I accidentally finished my book while I was home for Christmas, so I grabbed one of my old "off-site" favorites off the shelf and read that! Now that most of those books have been evicted, there are fewer left for emergencies. At least the ones that are left are the good ones.
And yes, not having a book to read constitutes an emergency.
---
For more short queries about books and the reading life, visit Booking Through Thursday.