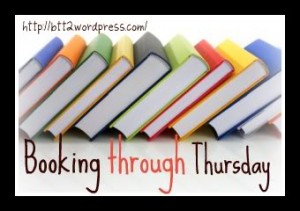 How do you store your books? On bookcases? In piles? In piles on bookcases? Are they sorted? Do you know where everything is? What's the most creative storage you've seen or used for your books?
We had a similar question fairly recently, although that was about how you would keep your books if you could have them any way you wanted. I suppose this is more about real life.
When I moved to Austin, I put together a simple sorting system. I bought the wide version of my beloved Billy bookcase from IKEA, annoyed my downstairs neighbor by hammering it together, and set up some basic categorization.
Then I got more books (mostly review copies, so they were free). To date, I have the same categories, but I've reached the overflow point that's left me with a couple of piles. I hate piles!
Here's my current organization:
Shelf 1 (top): Catholic and Christian books only; nothing secular
Shelf 2: Harry Potter books (up to and including The Tales of Beedle the Bard and the unauthorized Sorcerer's Companion), The Hunger Games trilogy, overflow Catholic and Christian books, and a couple of non-religious novels by religious writers
Shelf 3: photo/scrapbook albums, diplomas in slipcases, my main reference books (English dictionaries and Spanish grammar), and some decorations
Shelf 4: fiction and secular nonfiction
Shelf 5: books I used in college and grad school
Shelf 6: games, playing cards, and a few reference binders from my old job
I should probably move things around to get my religious books all in a row and eliminate those pesky piles. I do like having Harry Potter at eye-level and my religious books right above them, though. Those are the most important to me, so I look at them more often. It wouldn't make sense to keep them any lower because I hate squatting or bending unnecessarily.
Within shelves, they are sorted roughly by width. That's "how wide is the cover" width, which makes them stick out more towards me when they're on the shelf, not "how thick is the spine" width. I don't like having narrower books tucked between wider ones because they're harder to see that way (and the shelves are harder to dust that way). These are all of my physical books, so I don't have to look far when I know what category I'm looking for.
Despite my lifelong love of books, I've never had a system like this before. The change has been as comforting (if not as frequently used) as when I first organized my closet. I love it!
---
For more short queries about books and the reading life, visit Booking Through Thursday.