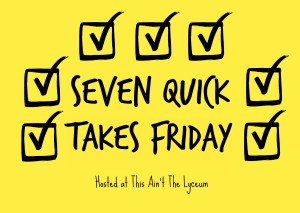 Since Apple doesn't seem to appreciate free Internet radio anymore, my short love affair with their stations is over. I have gone back to my college sweetheart, Pandora. I have not used my account since 2007, but my Switchfoot station was still seeded perfectly. I set up another one with "A Dios le Pido" by Juanes. My college roommate referred to him as "the Latin Justin Timberlake," and I have been practicing my Spanish with the Bible lately, so that seemed appropriate.
The verdict?
.@shakira and the Bible: things that both sound better in Spanish.

— Lindsay Wilcox (@lndsyloves) July 17, 2015
Back in June, I signed up for Stever Robbins's "Taming Your Tasks and To-Do's" webinar. It was tricky to watch during my lunch break, especially because it went over time, but I enjoyed it so much that I rewatched the whole thing later to make sure I'd absorbed it all. And I took notes. You can watch the replay, too, at that link, in exchange for your email address. The live discussion window was also archived. Watch for my comments!
Absolutely the best takeway was building a habit of checking my to-do list first. Like many people, I once lived in my inbox. When I was ready for a new task, I would check my Facebook notifications or Gmail and work from there. Bad idea. Now, I check my to-do list first. By focusing on tasks I've already identified, clarified, and usually scheduled, I make sure that I'm not just putting out fires all day. I still get to Inbox Zero, and I complete more of the tasks on my list. Win-win!
Participating in the Not Alone Series and putting my blog URL on my Christmas cards has made me highly cognizant of the amount of personal information I share online. I don't have kids to worry about embarrassing when they're older. I don't have a husband who's involved in my blog-worthy stories. (Or non-blog-worthy stories. It's the husband part that's missing. Point of clarification.)
I read a post at No Sidebar about being yourself online, and it underscores my philosophy quite well for a blog I just discovered this month. On the one hand, if I don't share my heart and my loves (hence the title) with you, I'm not really letting you get to know me at all. On the other hand, there are parts of my life I would never blog about. Some of them have a significant effect on my life and relationships, and if I know you in real life, I'll tell you about them offline. Here, though, is a vast space. The Internet never forgets.
Blog with discretion, but don't be afraid to share who you really are.
I had a color-finding appointment with my Mary Kay consultant last Saturday. Since Pure Fashion, I've made it a goal to learn to wear makeup like a grown woman. This is a good candidate my One True Red Lipstick. If only I'd had a fancier place to wear it than the grocery store.
https://instagram.com/p/5A02NYIh1d/
I went to Theology on Tap this month mostly to support Cris as a longtime Austin CNM contributor. He and another Chris spoke about digital discipleship. Having been a blogger for over ten years, on Facebook since 2005, and slowly learning how to best use Instagram and Twitter, I was interested in they strategies they would offer about how to live my faith online.
Their main point was that the Christian life is all about relationships: God's with us, and ours with others who are also beloved by God and hopefully loving God in return. Thus, sometimes our best response to something online is to take it offline. If you don't know someone well enough to see them in person (or even text them), maybe you don't know them well enough to "defend the faith" to them or "call them out" on something. At the end of the day, you want everyone to know that even if you disagree with them, you still love them. Christ loves us even when we least deserve it (which is basically always).
That is all that's on my mind right now, so perhaps there are really only five takes today. This balances out my usual not-so-quick takes, right?
See you next time!
---
For more Quick Takes, visit This Ain't the Lyceum.