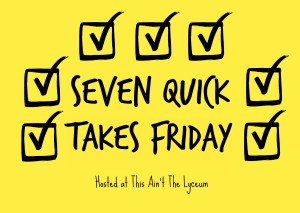 This week, I did a happy dance because I have my computer backed up 100% for the first time in ages. (99.9% is just not good enough!)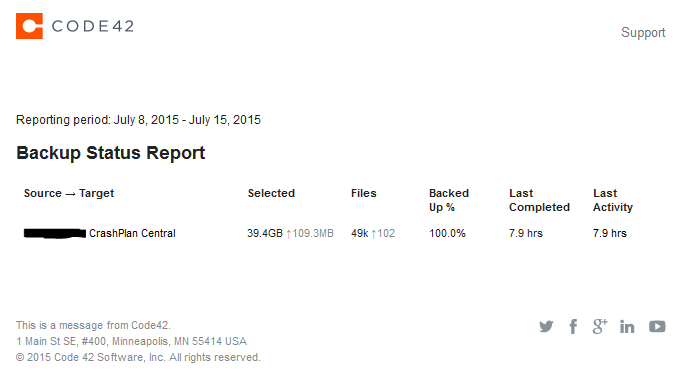 If you're not using CrashPlan or something similar to back up your files offsite, regularly, and preferably automatically, you should be. Think of it as computer insurance. You have insurance for your car being stolen, your house burning down, and your leg getting broken. Offsite backup is insurance for your computer dying (or also being stolen): you hate having to pay for it when you don't need it, but you are so grateful when you need it.
most cutting thing you can say is "who's this clown?" because it implies they're a) a clown & b) not even one of the better-known clowns

— Cohen is a ghost (@skullmandible) December 12, 2013
Somehow this got over 50,000 retweets + favorites, but I missed it until Audrey Assad retweeted it this week. I almost stopped following her (her tweets got too political for me). This has convinced me that not unfollowing was a fantastic decision.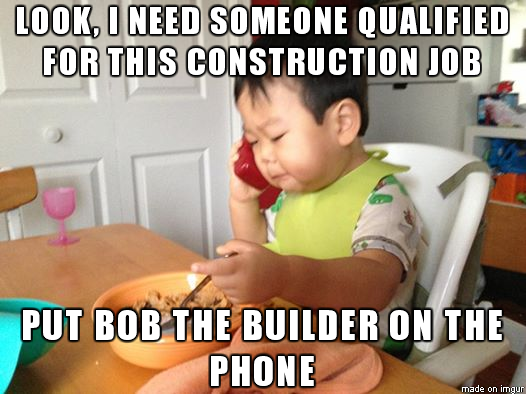 I saw a few Business Baby memes recently. A coworker led me to this one. It's particularly hilarious because I am in construction, and I work with a guy named Bob. Coincidentally, we are a highly qualified general contractor, and we can build for Business Baby or for you. #truestory #noreally #thisismyjob
Dance is still going well. I usually practice to music when I'm spinning around in my kitchen, which means I play YouTube videos from my phone. Until recently, I stuck to suggestions I found online and songs I've heard in class, but that got repetitive, and some of them were really fast.
I eventually stumbled across two tools that have expanded my song lists considerably. Using this handy little BPM web app, you can tap out the beat of any song you hear and get calculation of beats per minute. It even works on smartphones!
The goldmine was the search function at BPM Database. I started with the slow end of West Coast Swing music (80–90 bpm) and went through the list song by song at 80, 81, and 82 bpm. It was a beautiful, nostalgic journey, and now I can practice to "Fly Away," "Umbrella," and even "Sabotage." Much more fun. I know the songs, so I'm not distracted guessing where breaks and bridges will be, and the beat is slow enough that I don't get tired just from the pace.
I made a private YouTube playlist to keep track of my songs. I set it to shuffle, find the beat, and happily dance away.
Even though I have lived in Austin for almost five years, I have never been on the lake. I'm from the East Coast, so we are generally beach people more than lake people. Personally, I am pool kind of girl. Feeling all that nature under my toes is disconcerting. I'm not sure I've ever actually been in a lake, but I've been next to one.
Last weekend, a friend of mine invited me out to Lake Travis. We're still in a drought, but this summer's crazy rain has filled up our lakes a little bit. Her mom was in town from Louisiana and had rented a beautiful condo near the lake. The view was incredible. I didn't have much time to spare (Saturday is chore day), so I couldn't join them on their pontoon boat trip. We went to the pool instead.
I can swim, but I haven't been since our mission trip to Belize. It was a little strange to be next to the lake instead of on it (or in it, I guess). Having the opportunity to talk to my friend, smartphone free and uninterrupted, was worth the weirdness. We had the whole pool to ourselves. The lake view was even beautiful from my vantage point in the pool! Good times.
I got a nonspecific shout-out at Mass last Sunday. It was a surprising reminder that people sometimes actually listen when I'm talking. Fr. Associate Pastor took my comment about waxing and waning Mass attendance to heart, and I'm interested to see if other people agree. Read my full reflection at the end of this week's What I Wore Sunday post.
My phone freaked out last week and briefly seemed to have deleted all my text messages. First, I panicked. Then, I thought about embracing my loss in a spirit of detachment from the world. Then I restarted my phone, and they all came back. I'm secretly glad that I didn't have to actually do that detachment I was thinking about. Also, this phone is much lower quality than my previous one (I had an iPhone 4 for three years, then I got the 5c). Maybe that's why it was cheaper. Lesson learned.
---
For more Quick Takes, visit This Ain't the Lyceum.