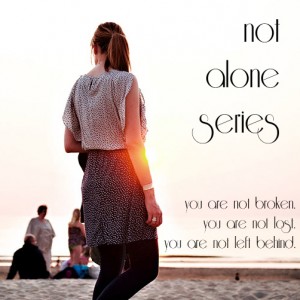 How do you give encouragement to other singles (or couples) who are struggling in their journey?
I got really sick last weekend—so sick that I had to call a friend to drive me to urgent care. Waking up with one eye incredibly swollen due to what turned out to be a bacterial infection was scary (because I couldn't see) and annoying (because I hate being sick and losing so much productivity). I spent all of Saturday morning lying in bed trying to get up enough energy to leave the house and trying to figure out who I was going to call to drive me to the doctor. (Ghostbusters was not an option.)
In the end, I found a fellow single friend to drive me. That friend, coincidentally, is a nurse. She stayed with me while I saw the doctor, we had dinner, and she even made it home before her college football game kickoff. I am so grateful to have her in my life. Even dinner was a needed stop: not only so I could wait for my prescription at Walgreens, but also because I lose my appetite when I'm sick and tend to forget to eat. I'm so needy.
So what does any of that have to do with encouraging singles? Well, as a single woman, I occasionally find myself in situations like that one. Not often, but sometimes. Sometimes I need help, I can't help myself, and I don't know who can help me. I moved far away from my family for a new career path. I don't have a husband, a boyfriend, a helpful older child, or even a handy roommate. (I have two roommates; they were out.) Some of that is my fault, but either way, I felt pretty helpless that day.
What I learned (besides gratefulness for healthcare access) was the importance of building a support system when you don't have a built-in one such as a spouse or other family. It's easy to think that we can all go it alone. I'm the oldest child in my family, so I have an independent nature that is usually useful. The downside is that I feel bad when I have to rely on someone else for, well, anything. Community is incredibly important to social life and Christian life, but there's a difference between the people you go out with for dinner and the people who will come to your rescue when your eye is infected.
So my word of encouragement fits with the very name and theme of this series: you are not alone. Even as your friends keep getting married and having babies and moving away, even as others keep going off into the convent, even when finding work means moving far away from your family, you don't have to be alone.
Who would you call in a real emergency? Who reminds you that you're not alone?
---
Next week's topic: Single Scriptures
What is your relationship with Scripture? Do you read the Bible every day? What is your favorite translation or edition? Do you use Scripture for prayer (a.k.a. lectio divina)? Do you play Bible roulette (flip to a random verse)? What are some Scripture verses that speak to you as a single woman?
View past and upcoming topics or like our Facebook Page for regular alerts.
Link up with Rachel at Keeping It Real!