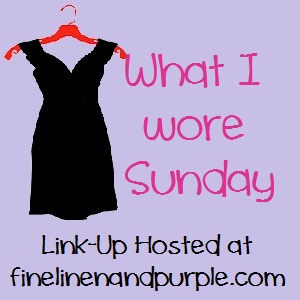 It felt like a gross summer day on Thursday when I was out for Thanksgiving (low 70's and patchy thunderstorms), but Sunday went back to winter. In my haste to finish the "new baby" meal I was making for some friends, I didn't leave myself quite enough time to assess my winter weather options, so I wound up with this: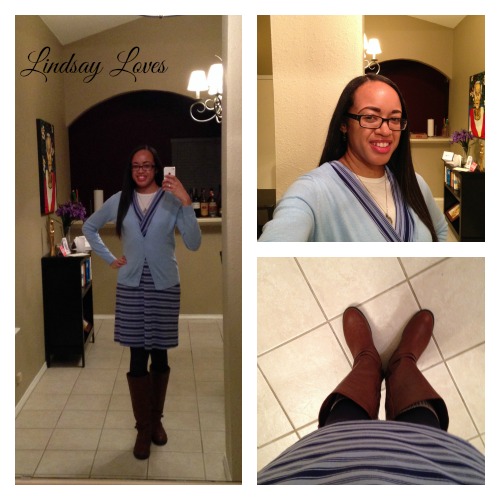 Dress: Target
Sweater and shell: Old Navy
Tights (navy blue): Target
Boots: Lauren Conrad for Kohl's
Earrings (tiny little guys): ridiculously old gift
Necklace: holy medals
I usually wear this dress with a completely different sweater, but it wasn't dry after laundry day. I also usually leave it unbuttoned, which is what I should have done here. I had competing waistlines that got uncomfortable pretty quickly. I also would have gone with a different color if I owned a darker blue cardigan that wasn't polka-dotted. (So yes, I do own one with polka dots.) I was nice and cozy, though.
As you can see in the bottom-right shoe shot, although I love these boots, LC must think women with my size feet have much wider calves. It took several weeks last year for me to figure out that I need to wear leg warmers with these puppies. I guess they keep the cold out, though, so that's a plus. It was rainy and cold and dark and terrible, but my shoe game was on point.
Furthermore, it's Advent! Had I thought ahead, I would have found some purple to wear today. Despite its being my favorite color, I don't own a whole lot of purple (my base wardrobe color is blue), so I have to have a plan to embrace my love of dressing liturgically. I've got three more weeks to work it out.
Fr. Associate Pastor must have made some comments last week about people leaving Mass early. I was distracted by the adorable family in front of me: mom, dad, and four kids, and everyone was well-behaved except the little guy. I was late this week (by which I mean I arrived with only seven minutes to go before Mass), so I had already planned to stay later, but I imagine that plenty of other parishioners felt that burn.
He connected it to Advent's spirit of patience: waiting for the return of the Messiah and waiting for Mass to actually be over and not just mostly over. He pointed out that St. Paul's letters all begin and end with a Trinitarian blessing, just like the Mass does. I know those intros because I have read and lectored them many times in all their single-sentence glory, but I don't think I've ever paid much attention to the endings.
One point of contention I had with the homily is the ubiquitous insistence that Advent is a penitential season. Advent is not a penitential season. It's a season of patience, waiting, watching, hope, preparation, tempered joy, and a host of other things. Parishes do tend to hold penance services during Advent because a great way to get ready for the future advent of the Messiah is to repent, but they could do that anytime. There is one penitential season, and that's Lent. We are still singing alleluias right now. There no required fasting or abstinence this month (and there's never that much to begin with). Maybe Advent was once penitential, but it's not now.
My Advent message comes from my buddy St. Augustine:
My brothers and sisters, believe firmly what you believe: that Christ will return. What does it matter when? Prepare yourself for his coming. Live as though he were coming today, and you will not fear his coming.
---
For more Mass fashion and commentary, visit Fine Linen and Purple.