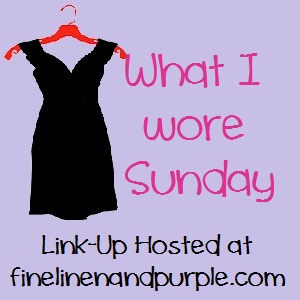 What a week! What a two week! It's been a while since I've missed posting WIWS so long that another Sunday comes along first. As I've said, I knew this fall would be action-packed, but I did not quite anticipate this level of activity. Someone remind me of this when I complain about feeling unpopular. Just send me a link; I'll get the hint.
Although I had to change and get to cooking and house-cleaning right afterwards, here's what I wore to church last Sunday: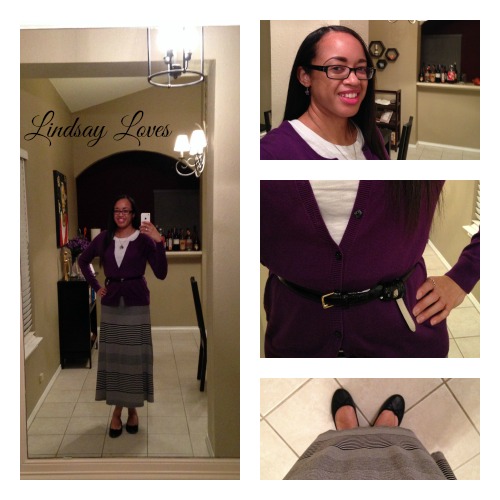 Cardigan and shirt: Old Navy
Skirt: Target
Shoes: Old Navy
Belt: Target
Necklace: holy medals
Earrings: Claire's? I don't remember; I've had them for ages.
It was fall over the weekend, although it switched back to summer for a few days mid-week. I took advantage of the opportunity to give my cardigans a run before I enter sweater-washing season again. (They can't go in the dryer, so they're tricky. But I love them.) I balanced out the warm top with a lighter bottom by way of this maxi skirt. I won't be able to go bare-legged for much longer, and I am not sure this one will make the cut for colder days.
I knew that it would be Catholic Services Appeal weekend, and I think Fr. Pastor came to Mass just for the homily the same weekend last year, so I wasn't surprised there. I was surprised, however, to look up from my pre-Mass prayers to find a friend seated beside me in the pew. It was the mother of a friend of mine, actually. The friend in question is a Baptist convert to the Maronite Catholic Rite. The mother is still a Baptist, although, when I told the son this story, he replied, "She's the only one who doesn't know she's Catholic!" She was an excellent Mass buddy.
I don't know for sure that the diocese planned to have the appeal on the same weekend as readings about stewardship and giving, but I'd bet dollars to donuts that they did. It dovetailed beautifully. Fr. Pastor began by noting that both widows give what many Protestants and evangelicals call a "love offering": a gift made purely out of love, without any self-centered consideration. (My Baptist pew neighbor nodded approvingly.) Both widows' sacrifices were small, but they were given out of great personal sacrifice. Jesus calls the apostles' attention to the widow to highlight his coming sacrifice, one which will be great and be given with great sacrifice. Jesus' sacrifice will also have much greater effect.
Fr. Associate Pastor, who was celebrating the Mass, concluded with a joke. It was funny! That last homily joke that was actually funny wasn't just a fluke! I even remembered to write this one down:
A little boy went to Mass with his mother. He watched as the collection basket came by, and she dropped in a few coins. On the way home, she began complaining about the homily. He responded, "Mom, what did you expect for such a cheap ticket?"
Out of the mouths of babes.
---
For more Mass fashion and commentary, visit Fine Linen and Purple.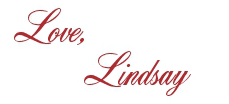 I bet you'll love these posts, too!