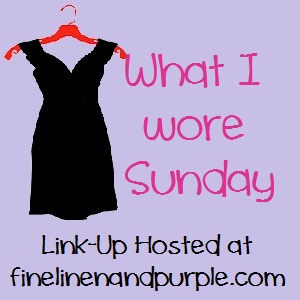 Merry Christmas! With the holiday falling at the beginning of the weekend, I feel like it's easier this year to convince people that Christmas is still going, the twelve days start with Christmas Day, and so on. I stand by my earlier assessment that Advent passed by much more quickly this year than in past years, but it's nice to not have had to fight for even Christmas weekend.
I went home to spend Christmas with my family, so I don't have my usual full-length photos this time. Don't need a mirror for a selfie, though!
Christmas Eve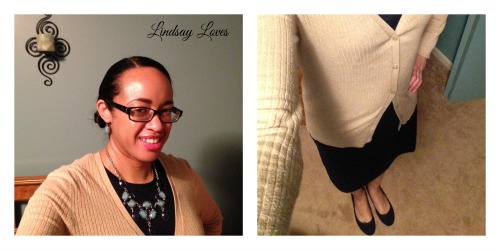 Dress, sweater, and shoes: Old Navy
Necklace and earrings: Charming Charlie
Hair: It's a side braid folded in half and pinned along the base of my head. I learned it somewhere online, but I can't remember where!
I usually try to dress liturgically, but I'm getting tired of my gold skirt, and I don't have anything plain white that's not for summer. (Seriously. Not even a button-down.) So I opted for an outfit that would survive packing well and that I still felt pretty in. The dress is navy blue, as are the shoes. The sweater is partially buttoned to create a waistline, and the necklace fills in some negative space.
I went to the same parish I usually attend when I'm at home, but the Mass I chose was celebrated by an assisting priest. He was old and Irish and delightful. Unfortunately, I accidentally picked the Mass with music by the Gospel choir. They sing the same songs every year, but they never seem to improve. The cantor/director made it seem as though she was Gladys Knight and everyone else in the church was just a Pip. Everything else about the Mass gave me great and tangible joy and reminded me that I don't go to Mass for the music. I go for the worship, the people, and the Eucharist, and I got all of those.
We had the readings for midnight Mass, although it was only 8 p.m. The cute old Irish priest began his homily by noting that angels and shepherds were Jesus's first "birth day" party guests. He noted that the word "savior" is repeated through the readings. It's the saving part that we celebrate at Christmas, even though we tend to think about that more at Easter.
As I noted in previous posts, my spiritual preparation for Christmas went really well. The culmination of all that waiting did not leave me disappointed.
Holy Family (Sunday)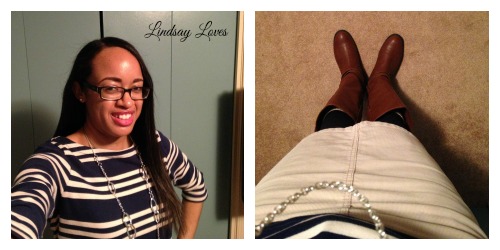 Top and skirt: Old Navy
Tights and necklace: Target
Boots: Lauren Conrad
Earrings: high school graduation pearls
Hair: courtesy of Mom's products and tools
My Christmas outfit was tricky. This one is a old standby. Well, I didn't get the boots until last Christmas, so I guess it's not that old, but this is probably my favorite outfit, period. I acquired every piece of it separately, but I love the way it all fits together.
I went to a different church on Sunday than on Christmas Eve. We have more drivers than cars when I come home now, so we had to do more shuttling and shuffling than usual to make that happen. It was interesting to be in a church where (as usual), I didn't quite look like anyone else, but that was because (not so usual), almost everyone else was Filipino.
The priest started his homily with a moment about how abortion is such a terrible sin because it harms future generations. There's no one to take over. It was poignant.
Continuing on, he noted that, when Jesus stays behind in the synagogue, he's about twelve and almost old enough to become a man. He spoke about how there is a transition between "cultural faith" as a child and "convictional faith" as an adult. He sympathized with parents who wonder why their children don't go to church anymore, and he pointed to their lack of conviction regarding their faith as the real culprit. You wouldn't expect a doctor or lawyer to get by in their professions based on what they learned as children, so you shouldn't expect that childhood faith is enough for children once they become adults. You have to own it.
Surprisingly, he also spoke about his late wife and two sons and about how he calls his sons every day. His own parents were able to send all seven of their children to college despite their poverty. Their family didn't have much, but they did have faith.
It was a family-soaked homily, of course, and I wished I'd had my family there to share it. Maybe someday.
---
For more Mass fashion and commentary, visit Fine Linen and Purple. This post is also linked up at D-Isis and the D Crew for What I Wore for Christmas.