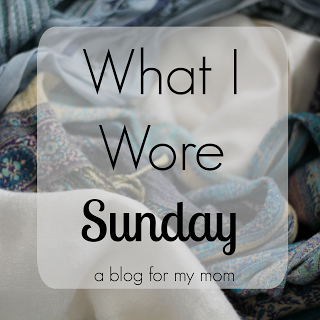 We are back in action!
I was sad that WIWS was declining so much, but I am delighted that Rosie from A Blog for My Mom is helping revive it this week! I'm also glad that I follow Kendra on Instagram, who tagged Rosie in her Insta post, and that I was scrolling my Insta feed at just the right time to see that and discover that Rosie would be hosting this week. Whew! The rabbit trails of the Internet are long and winding, dear readers.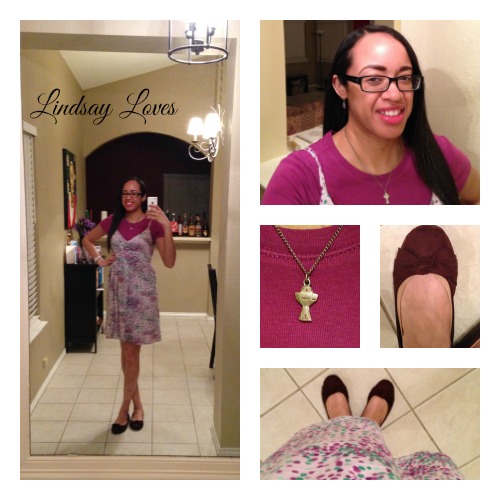 Shirt and dress: Old Navy
Necklace: First Communion gift (still have it after all these years)
Tiny earrings: Claire's, I think
Shoes: Payless
I usually cannot wear this dress during Lent because it's not warm enough. So much for that. We're still having very cold mornings and late nights, but the daytime is mild (or hot) (like salsa). I suppose the warmth to wear this dress balances out the purple sweater I accidentally ruined in the washer this weekend. The friend whose wedding I bought that sweater for is about halfway along with her third child, so it was probably retirement time. It also gives me an opportunity to expand my purple wardrobe. That is not the point of Lent, but I will take all opportunities to buy purple clothing that I can get.
In retrospect, I should have worn a longer necklace (or none) and picked shoe liners that don't stick out so much. I don't have kids, and my house is pretty clean, so we'll call that the "keeping it real" factor of my WIWS posts.
We had Fr. Associate Pastor celebrating Mass (as usual), but Deacon R gave the homily. We have a deacon at basically every Mass, which is awesome, but they almost never preach. After stumbling upon some solid criteria for preaching, I was very pleased at the caliber of Deacon R's. And I remembered to thank him for it on the way out!
The main thrust of Deacon R's homily was that we are tempted to be good enough instead of being excellent. In the wake of massacres like the rampage of the Manson Family, September 11, and Sandy Hook, we know there is great evil in the world. Compared to those people, the rest of us seem like saints! Even the bad things we do are not that bad. However, that doesn't make us any less culpable for our sins. Sins of omission are just as bad as sins of commission. (Side note: Those words are really hard to differentiate when speaking.) Sometimes, the problem is what you didn't do. Watching someone drown or holding them underwater has the same result. Your sins are not mitigated just because other people's are (or seem) worse.
The fig tree in the Gospel was a pretty healthy tree, as far as we can tell. It was growing, it was green, it was tall. Its only wrongdoing was not producing fruit. The people in St Paul's letter who died under terrible circumstances weren't worse than anybody else, but they weren't better, either. "When was the last time," he said, "that you went out of your way for someone else?" Food for thought.
---
For more Mass fashion and commentary, visit Rosie today!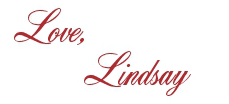 I bet you'll love these posts, too!