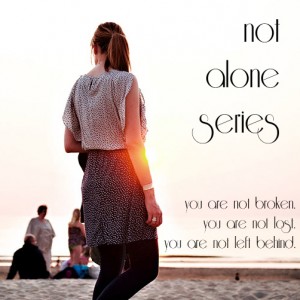 This week's guest host is one of the co-founders of the Not Alone Series, Miss Jen Cox, RN, of Jumping in Puddles! Her prompt is especially poignant for me right now.
Being single can leave us feeling unworthy and unlovable sometimes, but we know that it's not true! How do you avoid negative self-talk? How do you lift yourself up instead of allowing yourself to be down? How can we continue to acknowledge our low-points, but encourage each other to something more?
Once, many moons ago, some friends and I were sitting around discussing our romantic fatal flaws. One of us confessed to feeling inherently unworthy of love. Why would anyone even want to love her, she explained, when she was such a mess? It was heartbreaking.
We are now in the Easter season. Ever since I started celebrating Lent like I meant it (fun fact: I was still making a Lenten sacrifice even when I was doing basically nothing else Catholic), I have struggled with how to celebrate Easter. The suggestion bouncing around my sphere of influence is to intentionally speak about how Jesus has acted in your life and the hope he offers to everyone. That's what the apostles did after the first Easter, and Pentecost kicked their small-time evangelization into high gear.
So that's my message to anyone feeling deeply unworthy and unloved. Jesus thought you were worth dying for. He loves you so much that he actually did die for you, and he's so powerful that he rose from death so you would believe in him. Even if no one else loves you, he does, and he'll never stop, no matter what you do. And, bonus! The people who love him (a.k.a. every Christian ever, including all the angels and saints in heaven) also love you! So much love!
If you're anything like me, though, that's only comforting news sometimes. The rest of the time, you want a normal, Earth-bound human to love you. You want your friends to love you. You want a man to love you so much that he makes you his wife and promises to love you even when he doesn't like you very much at all. I feel like that. It's especially heart-rending as my friends (who still love me) move on into marriages.
My one consolation (the real kind, not the kind that is just a veiled platitude) is that I have hope. It's not the kind of hope that makes me particularly sunshiny, and it's not an optimism that just makes me happy. It's the kind that gives me joy. (Joy and happiness are not the same thing.) My hope is a theological virtue, manifested mostly as trust in God.
"The virtue of hope responds to the aspiration to happiness which God has placed in the heart of every man; it takes up the hopes that inspire men's activities and purifies them so as to order them to the Kingdom of heaven; it keeps man from discouragement; it sustains him during times of abandonment; it opens up his heart in expectation of eternal beatitude." —CCC 1818
The way I see it, anything we hope for here on Earth pales in comparison to our hope of heaven. Even in times when I wonder whether God will ever fulfill the longings of my heart for marriage, when I scoff at people's declarations that I will definitely get married and have kids, when I temper so much of my joy with the knowledge that very little is ever certain, I have hope in my salvation. I have hope that Jesus has saved me, he is still saving me, and he will save me in the end. I can't be quite so sure about anything between here and heaven, but I am sure about that.
It's that kind of hope that keeps me going.
---
Next week's topic: Mercy
We are now in the Year of Mercy, and we have just celebrated Divine Mercy Sunday. How do we share Christ's mercy with those around us? How are we merciful with ourselves?
View past and upcoming topics here or like our Facebook Page for regular alerts.
Link up with Jen at Jumping in Puddles!