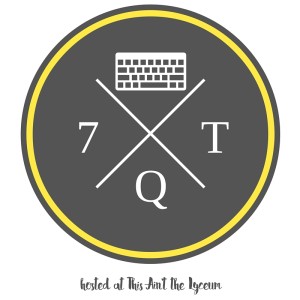 I had another event-filled weekend. I am grateful to have friends that invite me to do things with them, but it makes my inner introvert very tired. (I dance back and forth over the center line on the introvert–extrovert spectrum, and yes, that is a thing.) I did my laundry, went grocery shopping, played cards with friends, went to trivia, attended Mass at a different parish and time than usual, went to a baby shower, and Skyped with Mr. Man. That was a lot for one weekend. I was very tired this week.
It's long, but this prayer disposition advice from Origen is pretty sweet:
It seems to me that the person who is about to pray should withdraw for a little and prepare himself, and so become more attentive and active for the whole of his prayer. He should cast away all temptation and troubling thoughts and remind himself, so far as he is able, of the Majesty whom he approaches, and that it is impious to approach Him carelessly, sluggishly, and disdainfully; and he should put away all extraneous things.

This is how he should come to prayer: stretching out his soul, as it were, instead of his hands; straining his mind toward God instead of his eyes; raising his governing reason from the ground and standing it before the Lord of all instead of standing. All malice toward any one of those who seem to have wronged him he should put away as far as anyone would wish God to put away His malice toward him, if he had wronged and sinned against many of his neighbours or had done anything whatever he was conscious of being against right reason.
Time tracking went very well. As I learned when I got on a budget, awareness is key. Laura Vanderkam compares it to dieting. Everyone knows that the first step to changing your diet (I don't think of diets as short-term, temporary things) is to write down everything you eat. The first step to getting on a budget is to write down every penny you spend. Similarly, the first step to using your time better is to write down what you actually do every hour. Knowing that I would have to write down "spent 15 minutes scrolling through Facebook, Instagram, and Twitter before I got around to making dinner" made me very conscious of limiting that time to 15 minutes. I've never thought of 15 minutes as a useful chunk of time to conceptualize, but it totally is!
I also had to face the black-and-white proof that my sleep schedule is ridiculous. I knew that before, but I didn't have empirical evidence of it. I'm looking forward to doing a complete analysis.
Occasionally, I get overloaded by missed spam comments here on the blog. Thursday, I had about ten in one day! I'm grateful for the tools that allow me to mark them as spam immediately, but man, is that annoying.
A further note on spam: Don't mark email as spam if you just don't want it. Someone might actually want to receive that newsletter, and when you mark it as spam, the system learns from that, and it affects everyone. Every email newsletter is required by law to have a way you can unsubscribe from it. It's usually a link towards the bottom. Use that. For a fast way to remove yourself from email newsletters en masse, search your email archive for the word "unsubscribe."
I was exhausted after finishing my review of Dawn Eden's new book for ATX Catholic, to point where I got that tired, caffeine-stretched feeling behind my eyes. It was a serious struggle, but I managed to get in a tiny bit of extra sleep in the days since. It helped. It helped a lot, and I hate that it helped so much. I wanted to get more stuff done in that time, not just sleep through it!
It was probably the influence of tiny amounts of extra sleep combined with the awareness of time tracking that gave me a burst of mid-week productivity. I got a long-deferred item checked off my list (finishing my notes from last fall's hip-hop WCS workshop and my workshops at Free Day of Dance), and I looked into the new YNAB. I also got some reading done from Pocket. I was really glad I have the systems in place that let me use that time on things I'd already decided I wanted to do.
.@googlecalendar alert ruined my first perfect score on J!6 in a long time. Just like real @Jeopardy, no do-overs.

— Lindsay Wilcox (@lndsyloves) April 29, 2016
Oh, and which account favorited that is NBD:
I don't have a lot to say this week, so go look at this corgi. Bonus points if you find my comment.
---
For more Quick Takes, visit This Ain't the Lyceum.