In my effort to make the most of my Sundays, I got at least one thing done that I didn't mean to do and failed to do something I totally thought I would be able to do. Neither of those things was dressing appropriately for church; here is the evidence: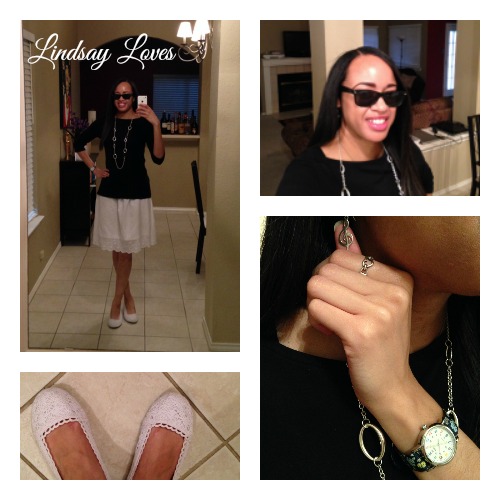 Top: Target
Skirt: Old Navy
Shoes: Fergie (yes, that one; I really wanted white lace flats)
Necklace: Target
Earrings: gift from when I was like twelve
Ring: Maryland Renaissance Festival (same one I always wear)
Watch: Timex (same one I always wear)
Sunnies: Ray-Ban (same ones I always wear)
I am so excited to have my summer clothes back! I have some winter-only items, but not many. And I can layer well enough to turn almost any summer item into something warm enough for Austin's version of winter. It also helps that I don't care a lot about "summer colors" versus "winter colors." Still, I was very glad to be able to wear this outfit again. White skirts and white flats scream summer.
I'm also pleased at my ability to get every one of my accessories in one photo there. I somehow spent the whole day thinking it was Father's Day, so I was later than usual getting home (since I called my dad from the church parking lot after Mass) and not in the mood to take more photos. On the up side, I got in a bonus call to both parents, which exceeds my goals from my Life Plan. Farther on the up side, my card definitely got to my dad on time. On the down side, I realized why Fr. Associate Pastor and Deacon R were so confused by my Father's Day wishes. Oh, well. There are much more embarrassing things I could have done, and I didn't do any of those. #winning
I think Deacon R is re-retiring, so this might be the last homily of his I hear. He started by sharing that the story of the sinful woman anointing Jesus appears in all four gospels. It's usually just before the Resurrection, though, so it represents the anointing of his body after the Crucifixion. In Luke's Gospel, though, the anointing appears very early in the narrative, representing Jesus' mercy and compassion. I'm pretty familiar with Luke and with the other versions of this story, but I had not noticed the timeline before.
He continued on to share that anointing usually sets apart someone or something for a sacred purpose. Jesus' first anointing was by the Holy Spirit at his baptism. For us fully-initiated Catholics, we also received our first anointings then: the pre-baptism anointing with the oil of catechumens and the post-baptism and Confirmation anointings with chrism. I realized that priests also receive anointing at their ordinations with chrism, and altars at the dedication of a new church are anointed with chrism, but the image doesn't work quite as neatly with the Anointing of the Sick. That's a shame; "anointing" is right there in the name.
Other notes I took after Mass are that the woman might have been considered sinful due to being a Gentile (inherently sinful) or sick (physically stricken due to moral failings), and that some people might think that the woman earns her forgiveness by her obvious penitence and love for Jesus, but the reading from St. Paul clarifies that for us in advance.
In a fortuitous twist, I was ready about 10 minutes early, so I opted to spend some time writing in my spiritual journal in the church before Mass. (I sit right near the choir pit, but I'm decent at tuning them out.) The Holy Spirit led me to reflect on my last Confession from a few weeks ago. Between pre-reading before Mass and hearing the readings proclaimed, I had completely forgotten that the theme of the day was repentance.
So it was a day full of surprises, but a good day all the same.
---
For more Mass fashion and commentary, visit Rosie at A Blog for My Mom for My Sunday Best.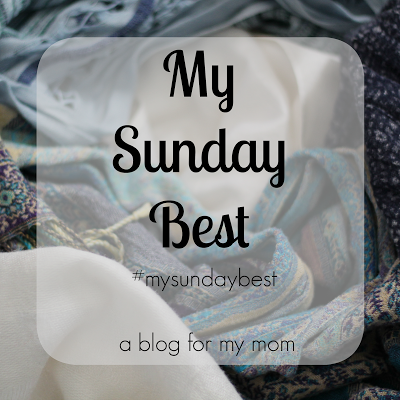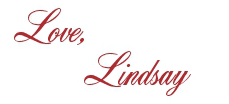 I bet you'll love these posts, too!